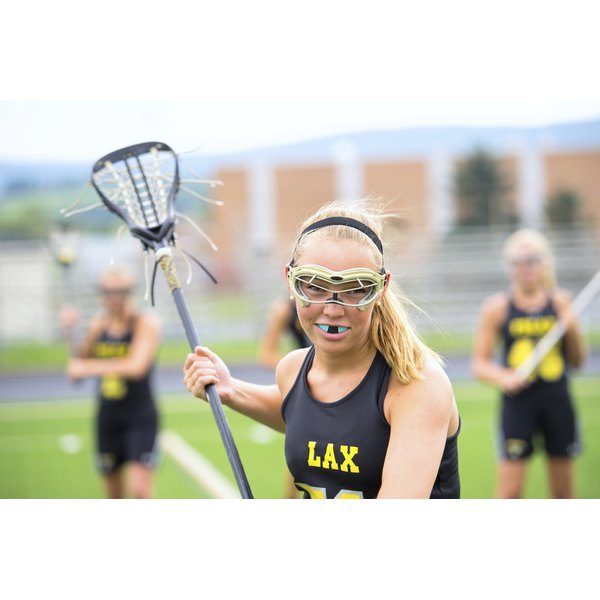 Mouth guards are an essential piece of safety equipment for many types of children's athletics, specifically those with a greater chance of mouth trauma, such as football or basketball. When your child participates in an athletic activity without wearing a mouth guard, his risk of injury is 1.6 to 1.9 times greater than if he's wearing a proper fitting mouth guard, according to the American Dental Association. When it comes to finding the best mouth guard for your child, you'll find a variety from which to choose.
Custom Made Mouth Guards
Custom made mouth guards are made by your child's dentist to specifically fit your child's teeth. Before making the mouth guard, your child's dentist will likely ask some questions about what type of sport the mouth guard will be worn for and if your child has had any dental injuries. Then, he'll do an exam and make an impression or mold of your child's teeth and create a custom fit mouth guard, whether it be a pressure laminated mouth guard or a vacuum mouth guard. This type of mouth guard is often the most comfortable to wear and offers the best protection.
Boil-and-Bite Mouth Guards
A boil-and-bite type of mouth guard can offer your child sufficient protection as well, if it stays in place while your child is participating in his sport and if it's worn properly, notes the American Dental Association. This mouth guard can be purchased at most sporting good stores and protects your child's teeth more than a stock mouth guard. With a boil-and-bite mouth guard, you'll have to place it in hot water, then have your child place it in his mouth and bite down. It can be formed to your child's mouth from the bite pressure and by using your finger to mold it to his teeth.
Stock Mouth Guards
A stock, or "off-the-shelf," mouth guard will provide your child with the least amount of protection but can still protect his teeth and mouth better than wearing nothing at all. This type of mouth guard is generally the least expensive option but it usually doesn't fit well, because it's not customized at all, and it can inhibit breathing and is often quite uncomfortable, which can cause your athlete to not wear it, notes Family Gentle Dental Care.
Additional Considerations
When you're child is going to be participating in a contact sport, such as hockey, lacrosse, football, basketball or boxing, it's crucial that he wear some type of mouth guard to cushion any type of blow that could break his teeth or cause his teeth to injure his tongue, face or lips, advises the American Dental Association. A mouth guard can offer protection during other sports as well, including gymnastics, baseball, softball, volleyball, track and field and soccer. Dental injuries that can be prevented with the use of a mouth guard include tooth fractures, luxation and avulsion, reports Nationwide Children's Hospital.