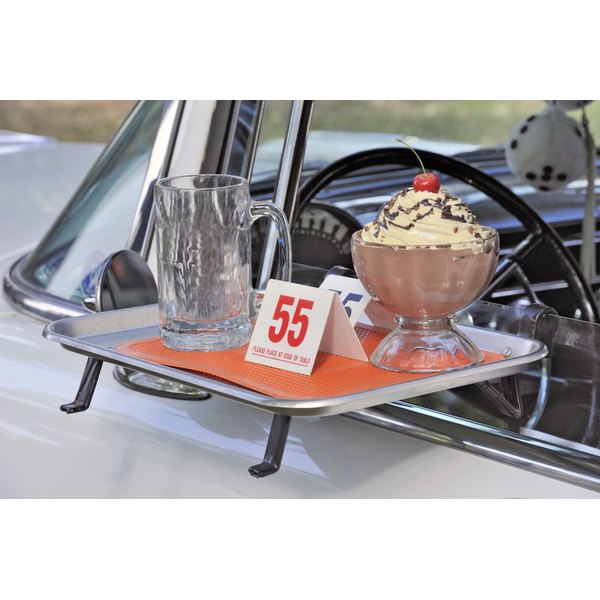 Fast food can quickly silence a growling stomach, and if you're on the road, you don't have to look far to find the red and yellow sign of a Sonic Drive-In. As of 2014, the restaurant chain has more than 3,500 locations across the United States. Much of Sonic's menu is extremely high in calories, fat, sodium and sugar. If you can't resist stopping, however, it is possible to opt for healthier menu choices when ordering.
Breakfast Entrees
Starting your day with a hearty breakfast provides fuel until lunchtime, but be careful to avoid eating something unhealthy. If you're watching your fat and calories, you'll likely want to avoid Sonic's CroisSONIC breakfast sandwich or Breakfast Toaster. The sandwich has 650 calories, 49 grams of total fat and 1,420 milligrams of sodium, while the Breakfast Toaster has 670 calories, 39 grams of total fat and 1,510 milligrams of sodium. Keep in mind that the American Heart Association recommends that you limit your sodium intake to 1,500 milligrams per day, so with just one Breakfast Toaster, you're already exceeding that recommendation. Instead, you can opt for the Junior Breakfast Burrito, which has 280 calories, 15 grams of fat and 830 milligrams of sodium.
Burgers and Chicken Sandwich
If you're watching your weight, steer clear of the SuperSONIC Bacon Double Cheeseburger, which has 1,240 calories, 87 grams of fat and 1,690 milligrams of sodium. Lighter choices are the Junior Burger, with 330 calories, 17 grams of fat and 480 milligrams of sodium, and the Junior Deluxe Burger, which has 360 calories, 20 grams of fat and 500 milligrams of sodium. You can also consider the Grilled Classic Chicken Sandwich, which has 450 calories, 17 grams of fat and 1,240 milligrams of sodium.
Snacks and Sides
When choosing your side order, you'll probably want to avoid the Chili Cheese Fries, as a small serving of this item has 430 calories, 23 grams of fat and 730 milligrams of sodium. Another side to skip is the Mozzarella Sticks, which have 440 calories, 22 grams of fat and 1,050 milligrams of sodium. A healthier selection is an order of Apple Slices, which comes with fat-free Caramel Sauce. Together, this side order has 110 calories, no fat, 60 milligrams of sodium and 15 grams of sugar.
Milk Shakes and CreamSlushes
Sonic's milk shakes might look appealing, but ordering even a mini size of any flavor greatly increases the fat and calories in your meal. A Mini Peanut Butter Cookie Shake has 780 calories, 47 grams of fat, 540 milligrams of sodium and 61 grams of sugar, while the Mini Oreo Cheesecake Shake has 770 calories, 36 grams of fat, 600 milligrams of sodium and 77 grams of sugar. Although no shakes are exactly healthy, a slightly lighter choice is a mini vanilla milkshake, which has 480 calories, 28 grams of fat, 250 milligrams of sodium and 49 grams of sugar. If you want something sweet, with slightly less calories, you might opt for a CreamSlush instead of a shake. For example, a mini Cherry CreamSlush has 380 calories, 18 grams of fat and 160 milligrams of sodium.