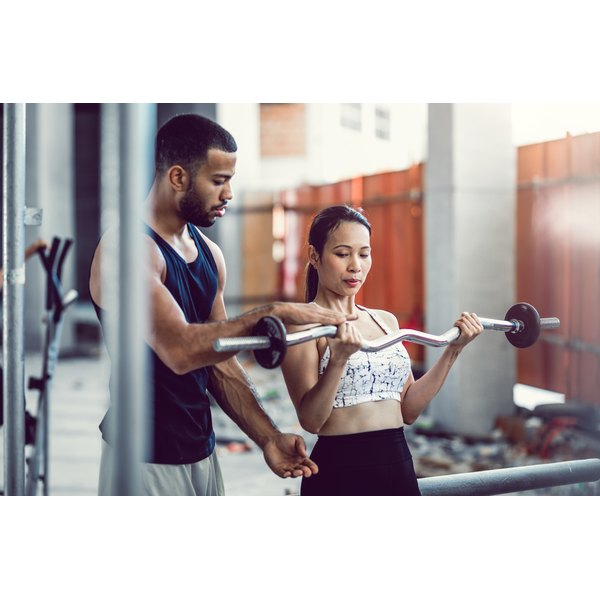 Since it opened 40 years ago, Nautilus has expanded to include a range of personal training options. A Nautilus personal trainer can help you get stronger, lose weight, build muscle mass, improve cardiovascular endurance, increase flexibility and improve your overall health. Stop in to your nearest Nautilus gym to learn more about the specific offerings at that location.
Determining Fitness Goals
Everyone desires something different from their fitness program. During your first meeting, a Nautilus personal trainer will ask you questions to determine those goals so she can plan an effective training program.
You might want to lose weight and build muscle, or lose weight and train for a 10k race. Your Nautilus trainer will also help you set smaller goals within your larger goal, such as losing a certain amount of weight in a specific time period.
What to Expect in the Fitness Assessment
The fitness assessment helps determine your level of fitness before beginning a program. The assessment may include a body composition test, which determines the percentage of fat in your body.
The trainer may also check your resting heart rate or ask you to perform fitness tests like pull-ups, sit-ups or push-ups and flexibility tests. These tests help the trainer understand what kinds of exercises and/or lifestyle changes might best improve your fitness.
Your Nautilus personal trainer will also assess whether you have any health conditions or injuries that could limit your ability to perform exercises in a personal training program. If you do have a condition or injury, you will need to receive a medical release from your doctor before working with a Nautilus personal trainer.
Individually Tailored Programs
Nautilus tailors its training programs to the needs of the individual member. An individual trainer may conduct your training one-on-one, and you may also join fitness classes that address your goals.
Each time you go in for training, your personal trainer meets with you to take you through a workout, assess your progress and provide tips and motivational advice. Trainers may also provide nutritional guidance based on your specific fitness goal.
Use of Nautilus Equipment
Your personal trainer will train you on the Nautilus exercise equipment to help you meet your fitness goals. Even NASA touts the strength-training benefits and efficiency of Nautilus machines.
Though Nautilus was traditionally known for its strength-training products, it has also worked to create effective cardiovascular training equipment. One example is the Schwinn 170, a stationary bike with 25 resistance levels, 29 workout programs, a heart rate monitor, a USB port, transport wheels, a fan and two LCD screens showing 13 types of feedback.