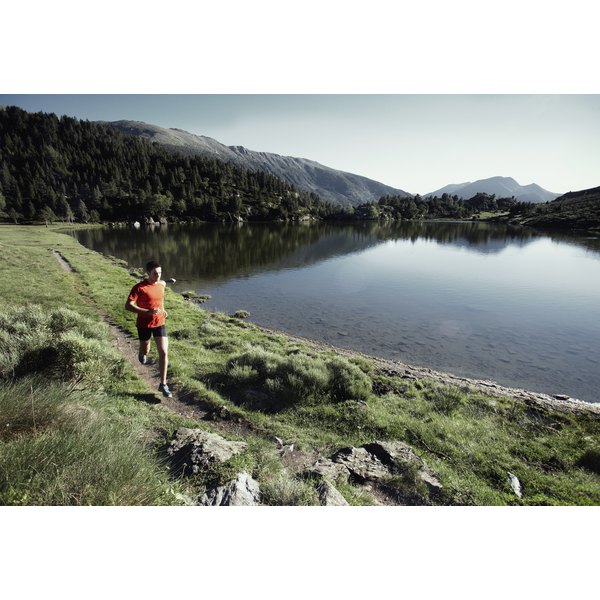 If you live near sea level and plan to compete at higher altitudes, early acclimatization and training at altitude will give you a competitive edge. But whether the adaptations your body makes from altitude training will have a positive or prolonged effect on your performance at sea level is uncertain. Understanding how your body adapts to altitude will help you plan your training schedule for peak performance at any level.
Getting High
A sudden ascent to high altitude can have a profound impact on your athletic performance. Due to lower atmospheric pressure at high altitudes, the partial pressure of oxygen that you breathe in is lower than at sea level, reducing the amount of oxygen available for physical activity. When oxygen is reduced to levels that impair your performance, you are said to be hypoxic. According to exercise physiologist Frank B. Wyatt, PhD of Midwestern State University, at altitudes of around 5,000 feet, your VO2 max, the maximum amount of oxygen you can use during intense exercise, begins to diminish and your performance declines. VO2 max goes down linearly with incremental increases in altitude above 5,000 feet at a rate of about 3 percent per 1,000 feet.
In the Zone
Hypoxia triggers a series of metabolic reactions that help you adjust to your new environment, a process called acclimatization. According to Wyatt, individual rates of acclimatization can range from two weeks to several months. One significant adaptation to hypoxia is an increase in red blood cells and hemoglobin, the oxygen transporting protein found in red blood cells. A 1992 Swedish study by Berglund of healthy athletes, published in "Sports Medicine," found that with regular training, hemoglobin increased at the rate of about 1 percent per week. Because the difference in hemoglobin between sea level and high altitude is about 12 percent, Berglund speculated that it would take about 12 weeks for the athletes to become fully acclimatized.
Buzz Kill
Many athletes hope that the enhanced oxygen transport capabilities gained at altitude will give them a competitive advantage at sea level. But according to Mark Jenkins, MD of Rice University, there is a lack of scientific evidence to support the notion. Because of decreased VO2 max, you cannot train at the same intensities as at sea level, and your cardiovascular fitness may decline. What's more, Wyatt notes that after prolonged training at altitude, lean muscle mass becomes diminished, an adaptation that may hurt performance at sea level. According to Sports Fitness Advisor, after four to six weeks at altitude, an athlete's lean mass can diminish by as much as 20 to 25 percent.
Coming Back Down
Rather than training at high altitudes in hopes of improving performance at sea level, an alternative approach is to train low and live high. The idea is to train at lower altitudes where you can perform at peak VO2 max, and live at high altitudes so that you will realize the benefit of increased hemoglobin. According to Altitude.org, the live high, train low approach has been shown to improve performance in athletic events lasting between eight and 20 minutes. However, you would have to spend more than 12 hours per day at altitude for at least three weeks to realize acclimatization benefits.