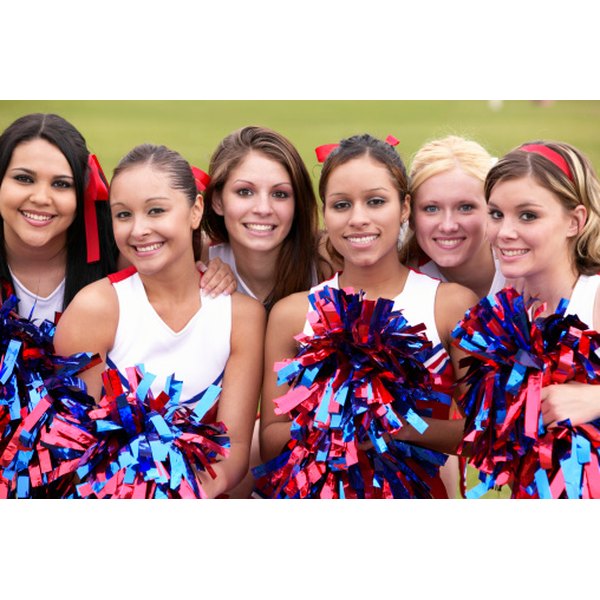 One of the most important aspects of a cheerleader's appearance is an attractive and interesting uniform. A properly designed cheerleading uniform allows you to move freely and conveys your school colors and team spirit to the opposing team. According to Natalie Guice Adams and Pamela Bettis, authors of "Cheerleader!: An American Icon," one uniform can cost as much as $250. Creating your own uniform can help save you money and allow your squad to put its own stamp on the appearance of its cheerleaders.
Obtain a pleated skirt and sweater in your team colors. Choose one color for the skirt and another color for the sweater. Select a skirt and sweater that do not have any embellishments, so you can add your own.

Use felt to create your team mascot for the back of your sweater. Make a felt cutout of your team name for the front of your sweater. Use fabric glue to adhere the felt pieces to your cheer sweater.

Add embellishments to your uniform: glue rhinestones to outline your mascot or team name. Use ribbon to add color and design to your skirt. Line the bottom edge of your skirt with ribbon in the same color as your skirt.

Glue rhinestones on a a pair of white athletic shoes and replace the shoelaces with ribbon in your team colors to customize your cheerleading shoes.

Add hair accessories to your uniform by tying your ponytail or braid with ribbon in your team colors. Glue rhinestones to the ends of the ribbon to add some sparkle to your uniform.

Tip

Check retail stores that cater to young girls and women; they often offer several styles of pleated skirts and cheer-type sweaters, suggest Adams and Bettis.

If cost is an issue, hold a fundraiser to help your squad raise enough money to purchase the materials to create your own uniforms.

Include the entire squad in the uniform decisionmaking process; it will build teamwork and help you form close friendships, recommends Linda Rae Chappell, author of "Coaching Cheerleading Successfully."

Inexpensive pom poms can be purchased at party stores in a variety of colors.

Warnings

Make sure that you choose skirts and sweaters that align with the dress code of your school or squad so all of your hard work does not end up being a waste.

Choose your cheer shoes with care, suggests Chappell, because you want them to be supportive to help prevent injury. Make sure any embellishments you add are attached well so they do not fall off and pose a safety hazard.