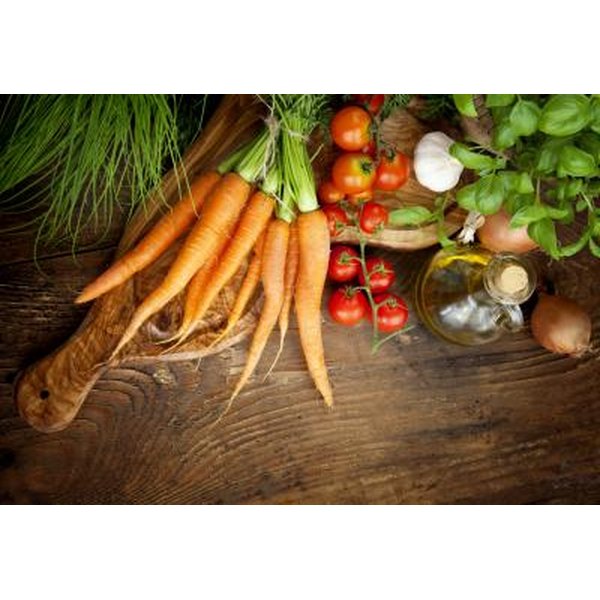 Green foods such as fruits and vegetables provide a wide range of vitamins and minerals. These healthy foods also add fiber to your diet, which helps to prevent numerous diseases. Also, the nutrients contained in green vegetables work to impede the development of cancer, notes the American Cancer Society. Eating fruits and vegetables each day helps your body to stay healthy and strong.
Broccoli
Broccoli contains the vitamins A, C and K, notes the Center for Young Women's Health. Broccoli also provides your body with fiber and folate. Broccoli is a very healthy food choice. You can eat it raw as a snack or shred or dice it to put in salads, soups, stews, casseroles, omelets and add it to recipes for chicken.
Spinach
Spinach is a strong source of vitamins A and K. It also contains iron and folate, notes the Center for Young Women's Health. Eating spinach regularly will keep your body well supplied with crucial vitamins and minerals. You can eat spinach raw on a sandwich or wrap or in a salad, or chop or shred it to use in soups, casseroles, dips and in cheese sauce.
Kiwi
The kiwi fruit contains a strong level of vitamins C and E. It also contains magnesium and potassium, notes Iowa State University. You can use this healthy fruit in fruit salads, as a topping on yogurt or cereal and in chicken recipes.
Honeydew
Honeydew is a nutritious melon. It contains vitamin B6, vitamin C, folate and potassium, notes The Ohio State University Extension. This melon also contains a high level of water so it also helps to hydrate your body.
Celery
Celery is a high-fiber vegetable that is easy to eat as a snack. Celery contains calcium, notes Harvard Medical School. It works to help your body prevent high blood pressure and cancer, and also helps the immune system function optimally, notes Utah State University, Cooperative Extension.
Green Pepper
Green peppers are a rich source of vitamin C, an antioxidant, notes the American Cancer Society. This vitamin helps keep skin healthy and works to heal wounds. Eating this green vegetable is also a way for you to help your body prevent cancer.
Asparagus
Asparagus is a high-fiber vegetable, notes the U.S. National Library of Medicine. Fiber in the diet will help you feel full, which helps you know when you have eaten enough. Fiber also helps your body avoid constipation.
Green Beans
Green beans contain vitamins A and C, notes the Centers for Disease Control and Prevention. Green beans also have calcium and iron. They will help your bones stay strong and help prevent anemia.
Arugula
Arugula is a healthy vegetable that contains vitamin A and vitamin C, notes the Center for Young Women's Health. It also provides your body with calcium. Arugula has a mildly spicy flavor. You can use it in salads, stews, casseroles and on sandwiches.
Collard Greens
Collard greens contain vitamins C, K and A, notes the Center for Young Women's Health. This vegetable also contains calcium and folate. Collard greens are also a strong source of fiber.