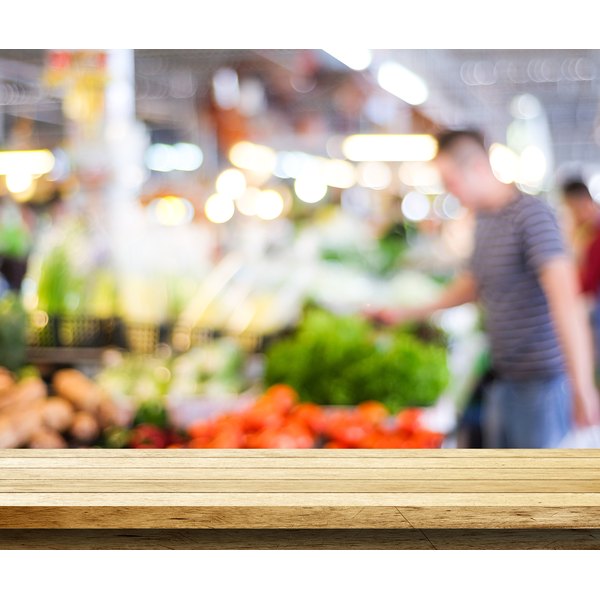 Stocking your kitchen is one of the first steps you need to take when making changes to your diet. A low-carb diet is filled with high-protein foods such as meat and poultry and low-carb foods such as spinach and peppers. Jotting down a grocery list before you head to the store can help you pick up the right foods and ensure you remember to get everything. If you're not sure what you need to buy for your low-carb diet plan, consult with a dietitian for help.
Get Protein From the Meat, Poultry and Seafood Department
They're carb-free and high in protein, so meat, poultry and seafood are at the top of the list for your low-carb diet. A 3-ounce portion of pork, steak, turkey or chicken has 23 to 28 grams of protein, while the same portion of tuna or salmon has 22 grams. Shellfish is lower in protein, with 14 to 20 grams in a 3-ounce portion of scallops, lobster or shrimp.
While fat isn't much of an issue on a low-carb diet, if you're concerned about heart health, you'll want to choose lean cuts of protein, recommends the Harvard School of Public Health. In addition to white-meat chicken and turkey, include beef round or loin and pork chops or pork tenderloin.
Also, add omega-3-rich fatty fish such as salmon or tuna to your grocery list. Omega-3s are essential fats and are good for your heart health.
Fill Up With Low-Carb Produce
Nonstarchy veggies aren't high in protein, but they're low in carbs and can help fill you up. Plus, they're rich in nutrients such as fiber, vitamins A and C, folate and potassium to keep you healthy. To get the most nutrition with the fewest carbs, add alfalfa sprouts, endive, escarole, radishes, spinach, bok choy and lettuce to your grocery list. A 1/2-cup serving of each veggie has less than 1 gram of carbs. Cauliflower, broccoli, asparagus, eggplant, kale and peppers also make healthy low-carb additions with 5 grams of carbs or less per serving. You'll want to bypass the starchy veggies, though, so scratch potatoes, corn and peas off your list.
No need to skip all the fruits on your low-carb diet. Olives, avocados and pumpkin -- which are technically fruits -- are naturally low in carbs and show up on many popular low-carb diet food lists as acceptable options, even during the strict induction phase where you're limited to 20 grams of carbs or less. Many other fruits are too high in carbs to make the list. But you might be able to fit in some of the lower-carb fruits, such as raspberries and strawberries, which have 7 grams and 8 grams of carbs per cup, respectively. With 10 grams of carbs, a small peach might also work.
Eggs and Dairy to Round Out Your Grocery List
Eggs are carb-free and high in protein with 6 grams per large egg, so they should be included on your low-carb grocery list. Many cheeses should go on your grocery list as well, such as semi-soft goat cheese, which is carb-free and has 6 grams of protein per ounce. Hard cheeses, such as cheddar, mozzarella and Swiss, also make good add-ons. A 1-ounce portion of any of these cheeses has 6 to 8 grams of protein and 1 gram of carb or less. Full-fat cottage and ricotta cheeses have more carbs than goat cheese but are also higher in protein -- 4 grams of carbs and 12 to 14 grams of protein per 1/2-cup serving.
Some dairy foods, such as milk and yogurt, contain quite a few carbs, so they don't make the list. On the other hand, heavy cream and butter aren't rich in protein but are carb-free, so they should be included.
A Few Items From the Middle Aisles
While you'll be doing most of your shopping around the perimeter of the grocery store in the meat, dairy and produce sections, you'll find a few items in the center aisles. To add flavor to your meals, include herbs and spices on your list -- such as oregano, basil, sage, ginger, pepper, cayenne pepper and dill -- because they're all carb-free.
Oils are naturally carb-free, too. Good options include olive, coconut, walnut and sunflower oils. Also add a few low-carb salad dressings, such as Caesar, ranch or creamy Italian, to your list to dress up your greens. Read the nutrition facts label to make sure there aren't any hidden carbs. Some low-fat salad dressings use sugar to add flavor when fat is taken out. A good dressing should have 2 or fewer grams of carbs per 2-tablespoon serving.