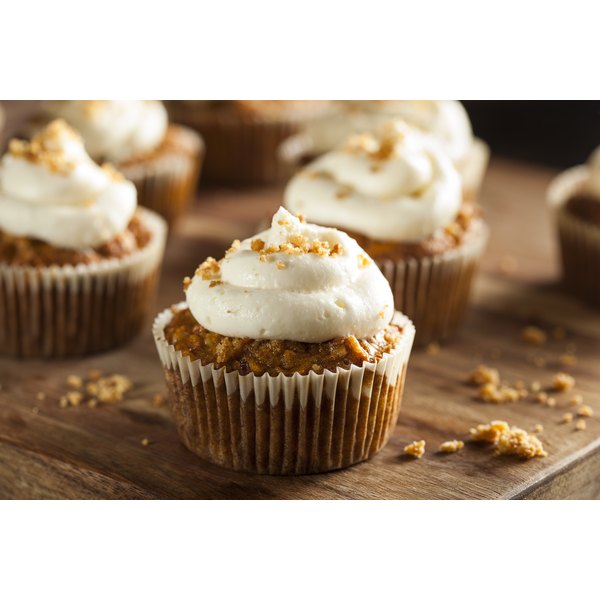 Cream cheese icing can add a lot of flavor to baked goods, but it also adds a significant amount of calories. If you are dieting, you should check the nutrition facts carefully to decide whether to include cream cheese icing in your diet.
Tip
Cream Cheese Icing has 391 Calories and 4.35 g of Protein per 100 gram serving according to the nutrition facts provided by the USDA Food Composition Database.
Calories
LIVESTRONG's food database MyPlate notes that two tablespoons of cream cheese icing contains 130 calories. This serving of cream cheese icing contains just under the calorie count in two chocolate chip cookies, according to MyPlate.
While that might not seem like much, these calories are empty calories made up of fat and sugar. If you're watching your weight and trying to eat a nutritious diet, cream cheese icing should be consumed in moderation and infrequently.
Fat
Cream cheese icing has three grams of fat per two tablespoon serving, according to MyPlate, including one gram of saturated fat. The American Heart Association suggests limiting daily saturated fat intake to 16 grams.
Carbohydrates
Cream cheese icing is also rich in carbohydrates. According to MyPlate, two tablespoons of this icing provides 27 grams of carbohydrates, with 25 grams of sugar.
The American Heart Association recommends that women consume 25 grams of sugar or less a day, and men consume 38 grams of sugar or less a day. One serving of cream cheese icing meets the daily maximum for women.
Protein
Protein is a vital nutrient that helps build your muscles and the structure of other bodily tissues. MyPlate notes that cream cheese icing does not contain any protein, whatsoever.
More About MyPlate
The free LIVESTRONG MyPlate calorie tracker app for iPhone and Android has helped millions of people lose weight the healthy way — by getting support from an active community as they track their eating and exercise. Consistently a top-rated app, MyPlate offers the latest technology in an easy-to-use tool that includes millions of foods and recipes, 5-minute in-app workouts and a robust support community.