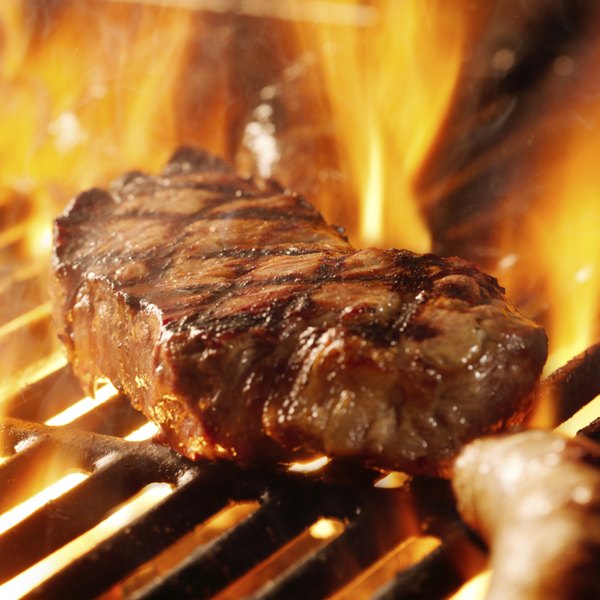 Cutting carbs offers a number of benefits, from trimming your waistline to improving heart health. But if you don't like how your low-carb diet tastes, you may have a tough time sticking to it. While taste preference is personal, there are low-carb options to satisfy any of your cravings. If you're struggling to find foods that work for a low-carb diet, consult a dietitian for help with meal planning based on your food likes.
Savor the Savory
Foods with a savory flavor -- also known as umami -- are said to create pleasant feelings. Lucky for low-carb dieters, most savory foods are either carb-free or very low in carbs. Meats, such as steak and pork chops, are naturally carb-free and taste great grilled or broiled, satisfying your need for something savory.
Hard cheeses, such as cheddar or Swiss, are also savory, low-carb foods. An ounce of cheese has about 1 gram of net carbohydrate, which refers to the digestible carbs. Some low-carb veggies, including asparagus and ripe tomatoes, fit into the savory category. Six asparagus spears have 2 grams of net carbs, and one small tomato has 3 grams of net carbs.
Tasty Low-Carb Veggies
Low-carb veggies are a major part of any low-carb diet plan. They're rich in nutrients your body needs for good health, and they fill you up without costing too many carbs. How you prepare your veggies affects how they taste. To get more raw greens on your low-carb diet, toss them with a low-carb dressing such as balsamic vinaigrette or Caesar. A good dressing shouldn't have more than 1 gram of net carbohydrate per tablespoon. You can dip raw veggies, such as cucumbers rounds, pepper strips and celery sticks, in low-carb ranch dressing if you're having a tough time eating them plain.
Roasting veggies also enhances flavor without adding carbs. Broccoli, cauliflower, eggplant, mushrooms, onions and brussels sprouts make yummy roasted veggie options. Toss with olive oil and flavor with salt, pepper and herbs or spices before roasting in the oven. Add roasted veggies to your savory meat dishes to make a super-tasty low-carb meal.
Sample the Sweetness
Added sugar isn't allowed on a low-carb diet, so you may wonder how you're going to satisfy a sweet craving. Even on a lower-carb plan, 1/2 cup of fresh strawberries, raspberries or blackberries can keep your sweet taste buds happy with less than 5 grams of net carbs. If you're on a higher-carb plan, you can enjoy a number of other sweet fruits such as apples, pineapple, nectarines, plums and oranges, which supply 6 to 12 grams of net carbs per serving.
Use carb-free artificial sweeteners to add sweetness to your coffee or tea. For a sweet ending to dinner, enjoy homemade low-carb desserts created with low-carb flours such as coconut and almond flour and artificial sweeteners.
Crunch, Crunch, Crunch
Raw veggies will satisfy your need to chew without taking a bite out of your carb budget. Nuts are not only low in carbs, too, but they're rich in healthy fats and fiber. Nibble on a handful of nuts -- 24 almonds, 10 pecans, 12 hazelnuts or 10 macadamia nuts -- for only 3 grams of net carbs per serving.
Some bagged snacks also fit the bill for crunchiness, including pork rinds and popcorn. Pork rinds are carb-free, while popcorn has 5 grams of net carbs per cup. You can make your own low-carb tortilla chips by baking low-carb tortillas -- with 3 to 13 grams of net carbs per tortilla -- in the oven until crispy. Serve with salsa or guacamole.