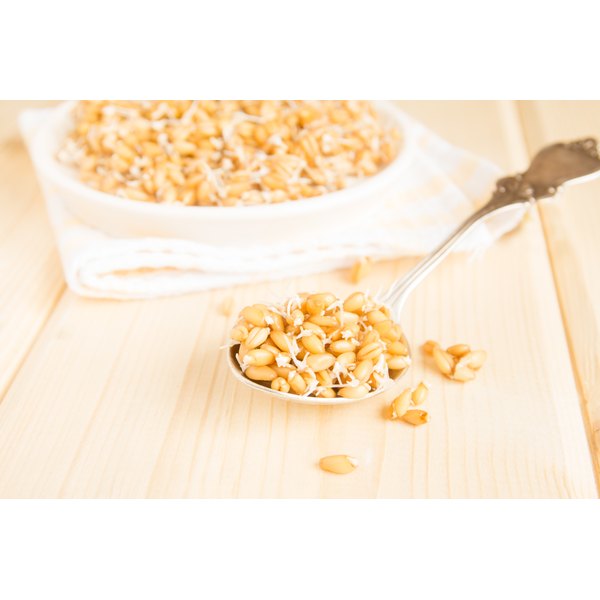 Eating a healthy diet with nutritious food may prevent you from experiencing hair loss. There are many reasons for hair loss such as genetics which can not be helped. If your hair loss is not genetically related, incorporating wheat germ into your diet may help, reports Health and Beauty Base. Wheat germ contains the mineral zinc which may help to prevent baldness and scalp problems, says Stop Hair Loss Now.
Hair Loss
There are several types of hair loss, or alopecia. Male pattern baldness is characterized by a receding hairline and balding at the top of the head. This can start in the teen years or early 20s reports the Mayo Clinic. Female pattern baldness causes thinning at the front, sides or crown. Complete baldness is rare in this case. Hair loss may be due to poor nutritional intake. Fad diets, crash diets and certain illnesses can also cause hair loss.
Wheat Germ
Wheat germ is the part of a wheat kernel that germinates and turns into a plant. Most of the kernel's fat is in the wheat germ and it is the most nutritious part of the wheat. Wheat germ is the part that is extracted from the kernel and used as a healthy supplement, reports Wheat Germ Benefits.
Wheat Germ's Nutritional Content
In addition to containing zinc, wheat germ is a good source of the B vitamins folate, niacin, thiamine and B 6. It also contains calcium, fiber, iron and magnesium. Wheat germ has omega-3 fatty acids, phosphorus, potassium, protein, selenium and vitamin E, says Wheat Germ Benefits.
Zinc
Zinc is an essential mineral that is naturally present in some foods. Zinc is needed for many activities in your body which include normal immune function, protein synthesis, DNA synthesis and cell division. Zinc is needed for normal growth and development from childhood to adolescence. Your body needs a daily intake of zinc because it is a mineral that is not stored in your body, reports the Office Of Dietary Supplements. Diets insufficient in zinc have been shown to produce baldness and scap problems that were reversed when zinc was added to it, reports Stop Hair Loss.
Ways to Add Wheat Germ to Your Diet
Wheat germ can be added to many of your favorite foods. Sprinkle it on fruit, cereal and desserts. It can be added to casseroles, pancakes and bread. Wheat germ can also be substituted for breadcrumbs when making hamburgers or meatloaf, reports Health Link.