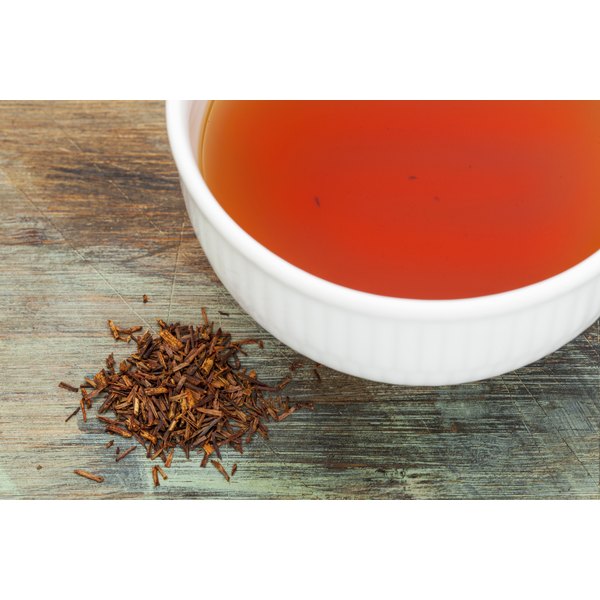 The needle-like leaves and stems of rooibos, or red bush, are used to make a healthful herbal tea. The plant grows in South Africa, where it is a popular beverage, usually prepared with lemon and sugar. Demand for Rooibos is increasing among health-minded consumers in the United States and other countries, due to the herb's mild, pleasant taste, unique aroma and health benefits. Red bush tea is caffeine-free and has lower tannin levels than green tea. While the drink is well-tolerated, rooibos has not been proven to prevent or treat any disease.
Fight Cancer
Red bush tea contains polyphenols, including flavonoids and aspalathin, powerful antioxidants that protect cell membranes. J.L. Marnewick and colleagues at Cape Peninsula University of Technology in Capetown, South Africa, compared the effects of four teas on rats with chemically induced liver cancer and kidney damage. Rooibos, honeybush, black tea and green tea all worked to decrease the size of the largest malignant lesion, while rooibose also reduced the number of lesions present. The study was published in the January 2009 "Food and Chemical Toxicology."
Lower Cholesterol
J.L. Marnewick was again the lead researcher in a related study conducted in Bellville, South Africa, utilizing 40 volunteers who consumed six cups of rooibos daily for six weeks. Compared to baseline measurements and those of controls, subjects given rooibos showed increased levels of polyphenols and glutathione, an antioxidant the body produces to protect against heart disease, cancer and aging. Subjects drinking redbush tea also demonstrated significantly lowered LDL, or bad cholesterol, which deposits fat in the arteries and raises cardiovascular disease risk. Additionally, HDL, or good cholesterol, the kind that carries fat deposits out of the arteries and back to the liver, showed significantly higher levels in the rooibos group. The study was published online in the September 15, 2010 "Journal of Ethnopharmacology."
Reduce the Risk of Alzheimer's Disease
Antioxidants may help prevent or treat Alzheimer's disease. A.S. Darvesh and colleagues, of Northeastern Ohio Universities Colleges of Medicine and Pharmacy, reviewed the therapeutic properties of dietary polyphenols and found that nothofagin, a substance in rooibos, has protective effects on nerves and brain function. Other compounds with similar effects were present in berries, tea, tumeric, grapes, peanuts and honeybush. The article was published in the May 2010 issue of "Expert Review of Neurotherapeutics."
Soothing Inflammation
Mothers in South Africa have long valued rooibos as an herbal remedy for infant colic. The herb's safety and efficacy were the subject of animal studies conducted by H. Baba of Juntendo University School of Medicine in Tokyo, Japan. Two groups of rats with chemically-induced colitis received either plain water or redbush tea. The water group became anemic, while anemia was prevented in rooibos-treated rats. The rooibos group also showed markedly less inflammation. The study's authors, who published results in the October 2009 "Pediatrics International," concluded that routine use of rooibos may be safe and useful in children.