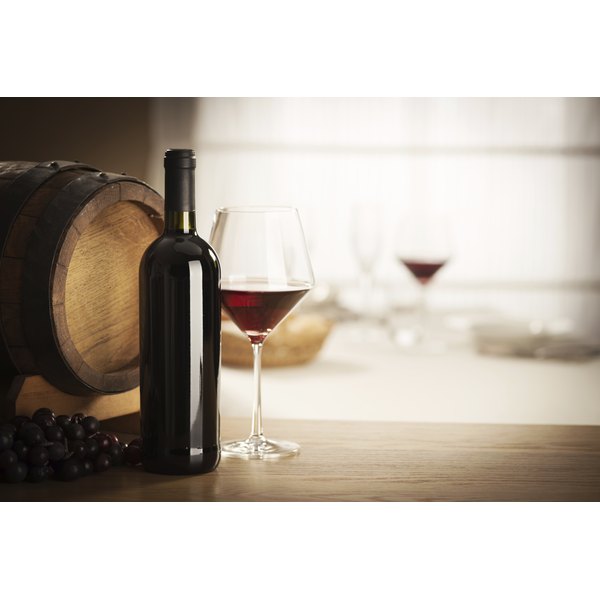 When you need a dry wine to pair with your meal, merlot makes a perfect choice. According to the Wine Institute, California processed over 334,000 tons of grapes in 2012 to make merlot, and this flavorful red wine is the second most popular red wine choice for Americans after cabernet sauvignon. This widely-imbibed wine may also provide a few health benefits when consumed in moderation.
A Light Choice
Merlot wine comes from deep-blue merlot grapes, a variety commonly grown in the Bourdeaux and Napa Valley wine regions. Compared to many mixed drinks, merlot is reasonably low in calories, containing 98 calories and no fat in a 4-ounce glass. A dry wine, merlot also provides less than 1 gram of sugar per serving. The same serving of a pina colada contains 219 calories, 2 grams of fat and 28 grams of sugar.
A Source of Antioxidants
According to Harvard Health Publications, resveratrol, a polyphenol found grapes, acts as an antimicrobial for the grape plant, protecting it from infection. Resveratrol also acts as an antioxidant in the body, protecting cells from free radical damage. Red wines, such as merlot, contain more resveratrol than white wines. A 2003 study in "Drugs Under Experimental and Clinical Research" found that merlot wine contained the highest concentration of trans-piceid, a resveratrol derivative, of the 19 wines studied. Growing conditions, grape quality and wine-making procedure affect the antioxidant content of wines. A 2012 study in "Food Chemistry," researched the antioxidant quality and content of merlot wines made by different techniques. Wines made with Vinalco, an Macedonian yeast, and wines made from grapes that were macerated for six to 10 days yielded the highest antioxidant activity of the wines in the study.
Merlot and Heart Disease
A moderate consumption of alcoholic beverages, such as merlot, may slightly increase levels of HDL, your good cholesterol, reports the American Heart Association. Moderate alcohol use may also reduce clotting, lowering your risk of a heart attack or stroke. Research indicates that the antioxidant action of resveratrol may also protect against heart disease, but Harvard Health Publications notes that the majority of resveratrol research remains limited to cell cultures and animals, and long-term effects on human health have not been studied. Scientists do not yet know if the resveratrol in merlot or other red wines provides significant benefits to long-term heart health.
Drink in Moderation
An occasional glass of merlot may benefit your health, but the American Heart Association cautions adults to limit alcohol to no more than one drink a day for women and two drinks for men. For merlot and other wines, one drink equals 4 ounces. Dr. Gerald Fetcher, a spokesman for the American Heart Association, notes that drinking too much wine or other alcoholic beverages may increase your blood pressure, a risk factor for heart disease. If you do not drink, you can still receive the antioxidant benefits of merlot wine by eating fresh grapes and drinking 100 percent grape juice.