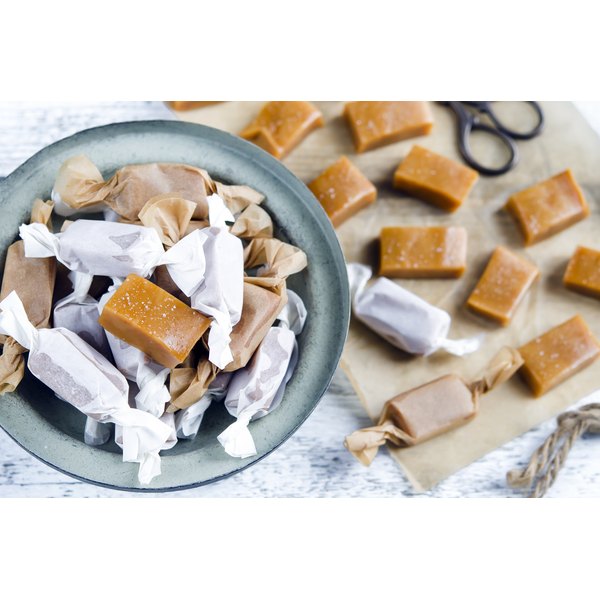 The chewy treat called caramel that finds its way into individually wrapped confections, candy bars, cakes, puddings and ice cream is mostly composed of sugar. When sugar is burned it acquires the characteristic brown color that distinguishes caramel.
Tip
Caramel Candy has 464 Calories and 3.57 g of Protein per 100 gram serving according to the nutrition facts provided by the USDA Food Composition Database.
Ingredients
Caramel candies have caramelized sugar as their chief ingredient, so expect loads of calories. Other ingredients can include butter, condensed milk, corn syrup, vanilla extract and water. Additional ingredients can include coffee, nuts, chocolate and maple syrup or flavoring.
Calories and Fat
The typical commercially produced, individually wrapped candies range from 5 to 10 g in weight, and provide about 37 to 40 calories per piece. A one ounce serving, about 3 pieces, delivers close to 120 calories, less than 1 g of saturated fat and 3 mg of cholesterol.
Sugar Free Caramel
So-called sugar free caramels do not differ in calories from regular caramel candies. They contain around 120 calories per 1-oz. serving. These candies are made from maltitol syrup, an alcohol based substance that does not qualify as a sugar, but which still contains a similar number of calories.