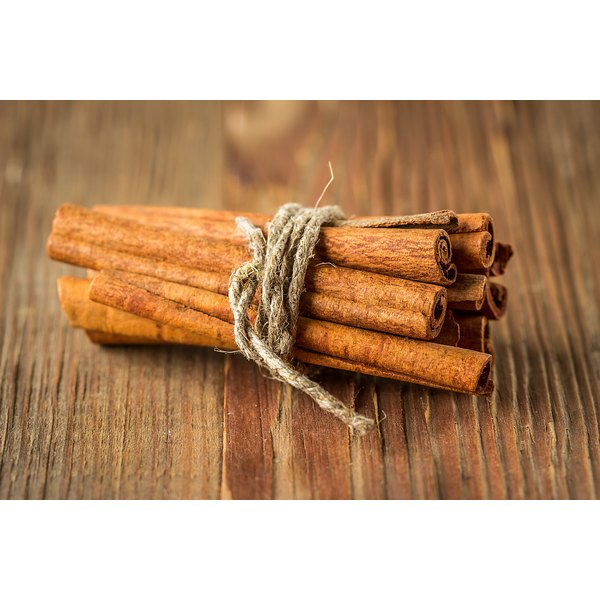 People lose weight when they consume fewer calories than they burn. But scientists are finding that even outside of a low-calorie diet your food choices may help you drop those unwanted pounds. A few everyday options, specifically cinnamon, honey, vitamin D and multivitamins, have been linked to lower body weight and body mass index, or BMI.
Cinnamon
Cinnamon has a group of compounds that increase sugar metabolism in the body's fat cells and make insulin more efficient, according to Tim N. Ziegenfuss and colleagues working with the United States Department of Agriculture, USDA. In a 2010 study published in the "Journal of the International Society of Sports Nutrition" Ziegenfuss and his team found that these compounds can decrease the risk factors for diabetes and cardiovascular disease. Another USDA scientist, Richard Anderson, published a study in 2008 in "The Proceedings of the Nutrition Society" that found water-based cinnamon extract improved systolic blood pressure and the percentage of body fat of participants as well as increased lean body mass. Benefits can be achieved with doses as little as 1 g or 3 tsp according to a 2003 study published in "Diabetes Care," by researcher Alam Khan and colleagues.
Cinnamon Safety
The USDA reports that some components of whole cinnamon can be dangerous if consumed for a long time. Dr. Ryan Bradley, a doctor of naturopathic medicine says in a Diabetes Research and Action Education Foundation article that while the water-based extracts seem to be safe when given to lab animals, he recommends against taking large doses of whole cinnamon until we know more.
Honey
Honey is another natural substance packed with vitamins and minerals that has been shown to help in the weight loss battle. A 2008 study published in "The Scientific World Journal" by Yaghoobi and colleagues found that natural honey reduced body weight and body fat by more than 1 percent. It also reduced total cholesterol and bad cholesterol while raising good cholesterol.
Vitamin D
According to a 2010 study by Danit Shahar, et al., published in the "American Society for Clinical Nutrition," consuming more calcium and vitamin D increased the likelihood of weight losses of greater than 10 pounds. Vitamin D levels at the start of a reduced-calorie diet also predict weight loss success, says researcher Shalamar Sibley, who presented the findings in 2009 at The Endocrine Society's 91st Annual Meeting. For every increase of 1 ng/mL of the active form of vitamin D participants lost 0.25 lbs more. Higher levels of vitamin D also indicated a greater loss of abdominal fat.
Multivitamin
Even taking a multivitamin can help you in the battle of the bulge. A 2010 study of 96 obese Chinese women published in the "International Journal of Obesity" by Wang, et al., found that participants who took a multivitamin had lower body weight, body mass index, fat mass, waist circumference, total cholesterol and bad cholesterol. These participants also burned more calories at rest and had higher good cholesterol. The researchers believe that the vitamins might increase energy expenditure and fat oxidation, which can lead to weight loss.