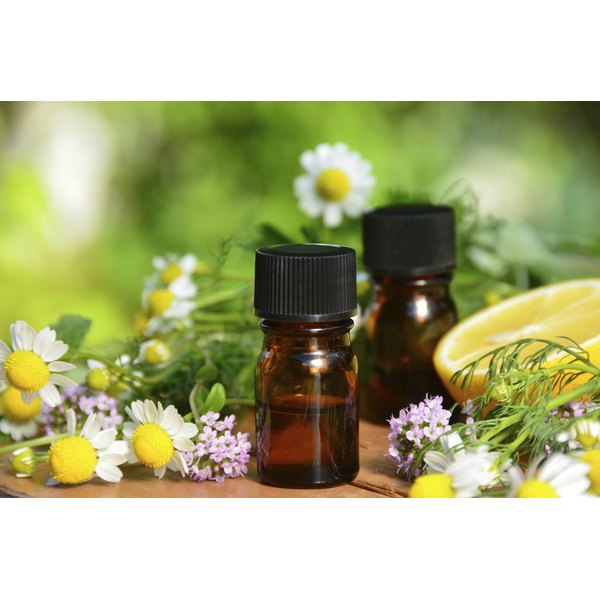 Essential oils are highly concentrated plant materials extracted through a distillation process. As an alternative therapy, they are mixed with a carrier oil, such as olive oil, and then rubbed into the skin to treat health conditions such as swollen joints. Herbal therapies are not meant to replace medical treatment, and their effectiveness has not been scientifically proven. Consult your doctor before using essential oils.
Significance
In "The Complete Book of Essential Oils and Aromatherapy," Valerie Ann Worwood writes that essential oils are considered potent herbal remedies because of their high concentration and because of the work that goes into producing them. Distillation processes for each type of plant are different and require a lot of time and care. As an example, Worwood says that about 60,000 rose blossoms are required to make a 1-oz. bottle of rose oil. To make sandalwood oil, a sandalwood tree must be at least 30 years old and more that 30 feet high before it is cut down for distillation.
Effects
In "Healthy Bones & Joints: A Natural Approach to Treating Arthritis," David Hoffmann writes that some essential oils have rubefacient properties, which may stimulate circulation and relieve inflammation when applied to the skin. Topical use of these oils may help ease joint issues, as well as muscular rheumatism and similar conditions.
Types
Hoffmann lists a number of essential oils that may help with swollen joints and pain. Cayenne, an herb known for culinary purposes, has rubefacient properties, as do peppermint, rosemary, ragwort and wintergreen essential oils. Ginger, horseradish and mustard seed are warming herbs used in cooking and are thought to have stimulating properties that may help circulate the blood.
Blends
Worwood lists various blends that can be applied topically to the joint area. Add 10 drops of lavender, peppermint and eucalyptus oil with 5 drops of thyme. Mix this blend with 2 tbsp. of vegetable oil. Another blend to try is 10 drops of ginger and marjoram essential oil with 5 drops of basil in 2 tbsp. of vegetable oil. You can also mix essential oils in green clay, which is found in health food stores.
Warning
Do not add essential oils directly to skin, as they may cause irritation. Essential oils need to be mixed with a carrier oil, such as olive, jojoba, almond or apricot oil. Test blends on a small patch of skin before using them to make sure no allergic reaction occurs. Essential oils are not scientifically proven to effectively treat swollen joints, so be sure to check with your doctor if you are experiencing joint pain, which may be indicative of a more serious condition.