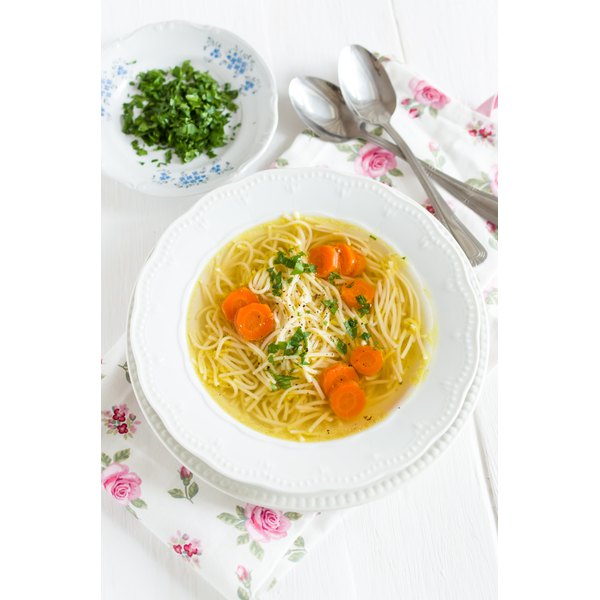 Dieting, whether trying to lose weight or benefit your health in other ways, can be as simple or complicated as you make it. Your physician may recommend exercise and dietary changes to improve your health, but you may wish to follow a special diet. A variety of juice and soup diets offer varying degrees of effectiveness. You should consult your doctor before starting any diet plan.
Cabbage Soup Diet
Proponents of the cabbage soup diet, also known as the Mayo Clinic diet despite having no connection to The Mayo Clinic, report that this diet serves as "quick start" to your dieting goals, allowing you to lose up to 10 pounds in a single week. The diet suggests you eat all the cabbage soup you want--made to the specifications of a certain recipe--while following a very specific diet plan for a period of seven days. The Cabbage Soup Diet website notes that the diet is a low fat, high fiber diet that is only suitable for adults. Some people reportedly feel light-headed or weak while on this diet, and you may also find the soup boring and bland. You should drink at least four glasses of water every day while following the diet and take a multi-vitamin to make sure you meet daily nutritional requirements. The Every Diet website reports that the cabbage soup diet may short-change you on protein, calcium and essential fatty acids, although you will likely lose weight due to the low number of calories you consume.
The Lemonade Diet
Adhering to the lemonade diet, a part of a larger program known as the master cleanse, restricts your diet to only liquids. You can ingest 60 oz. of spring water mixed with 12 tbsp. of maple syrup and 12 tbsp. of freshly squeezed, organic lemon juice and approximately 1/2 tsp. of cayenne pepper, spread over a single day, giving you six 10 oz. glasses of lemonade. You may also drink as much plain water as you like while following this diet. The master cleanse is meant to detoxify your body, according to Every Diet, and this part of the program takes anywhere from four days to two weeks. You should lose weight due to fluid and water retention, although the diet is not meant for weight loss. You should be careful to introduce foods cautiously after your fast ends to avoid getting sick.
Chicken Soup Diet
The chicken soup diet may help you lose weight, although Diet.com points out the diet plan does not make any claims that you will. This diet allows you to eat breakfast each day from a list of acceptable choices, and replaces all other meals with chicken soup. You may eat as much chicken soup as you'd like throughout the day, according to the FadDiet website. Breakfast options include ricotta cheese, toast and figs; nonfat yogurt, fruit salad and wheat germ; Total cereal, nonfat milk and orange juice; prune juice, a small bagel and fat-free cheddar cheese or wheat cereal with nonfat milk. It makes no recommendations for exercise or other lifestyle changes and says you should follow the diet for seven days. The soup recipe for the diet is low in fat and includes a variety of healthy vegetables, which helps you get the nutrition your body needs.
Jump Start Juice Diet
Designed by nutrition expert and television personality Brendan McCarthy, the Jump Start juice diet allegedly helps you lose weight with an eye toward improving your heart health. This seven-day diet program supposedly removes built-up toxins in your body and helps you lose weight. Nutrients are provided through vegetable and fruit juices, as well as the fruits and green vegetables you are able to eat on the diet, according to the Every Diet website. Coffee, tea and soda are not permitted while you're adhering to this diet plan.