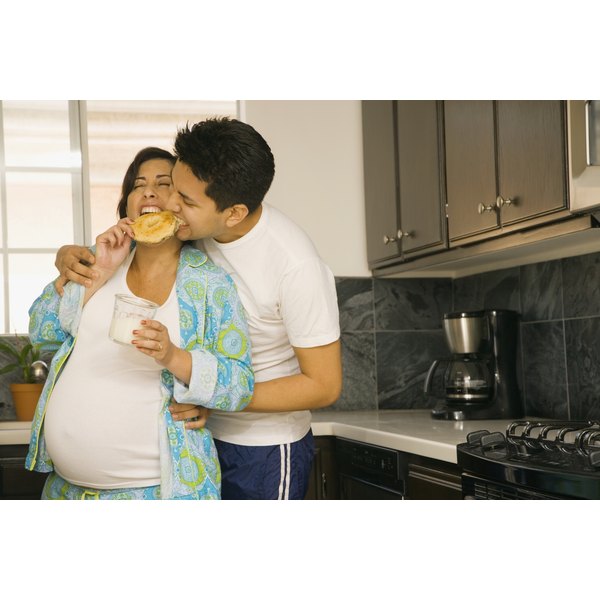 Pregnancy can be one of the most rewarding stages in a woman's life. During pregnancy, however, lifestyle changes typically are necessary to increase your chance of delivering a healthy baby. Nutritional needs are also greater during pregnancy. The U.S. Department of Agriculture website provides a customized food guide pyramid for pregnant women called MyPyramid Plan for Moms, specifically designed to help guide food choices during the course of the entire pregnancy.
Basics
The USDA MyPyramid Plan for Moms provides customized meal plans for pregnant women based on age, height, pre-pregnancy weight, delivery due date and activity level. The meal plans available provide information regarding recommended daily calorie intake, recommended pregnancy weight gain, number of food groups to consume each day, food group portion sizes and physical activity recommendations for each trimester.
Weight Gain
Weight gain recommendations for pregnant women are based on pre-pregnancy body weights. According to the USDA, women with a pre-pregnancy weight in a healthy range should gain between 25 and 35 lbs. during pregnancy. The USDA also says that during the first trimester of pregnancy, 1 to 4 Ibs. of weight gain is recommended while in the second and third trimesters 2 to 4 lbs. of weight gain per month is encouraged.
Physical Activity
Recommendations for physical activity are also included in the USDA MyPyramid Plan for Moms. The USDA encourages all adults, including pregnant women, to engage in at least 1/2 hour of moderate physical activity on most days of the week. This recommendation does not apply if physical activity is contraindicated by your obstetrician, and exercise modifications may be necessary, especially in the third trimester of pregnancy.
Food Groups
Food groups included in the USDA MyPyramid Plan for Moms are fruits, vegetables, grains, meat and beans, milk, oils and discretionary calories. The grain group includes foods such as bread, cereal, rice, pasta, oatmeal, crackers and pretzels for example. Whole grains are encouraged whenever possible. The meat and beans group encompasses all meat, fish, poultry, dry beans and peas, eggs, nuts and seeds. The milk group includes milk, cheese, yogurt and milk-based desserts, such as milk-based puddings and frozen yogurt. Discretionary calories are additional calories that may come from foods of choice and may include extra fats or sugars.
Sample Meal Plan
The following sample meal plan is obtained from the USDA MyPyramid Plan for Moms and is applicable to a 30-year-old pregnant woman who is 5 feet 4 inches tall, engages in 30 to 60 minutes of moderate physical activity most days of the week, is in her third trimester of pregnancy and has a pre-pregnancy body weight of 130 Ibs. Her recommended daily calorie intake is 2,600 per day. The meal plan consists of 9 oz. of grains, 3.5 cups of vegetables, 2 cups of fruits, 3 cups from the milk group, 6.5 oz. from the meat and beans group, 8 tsp. of oils and 410 discretionary calories.