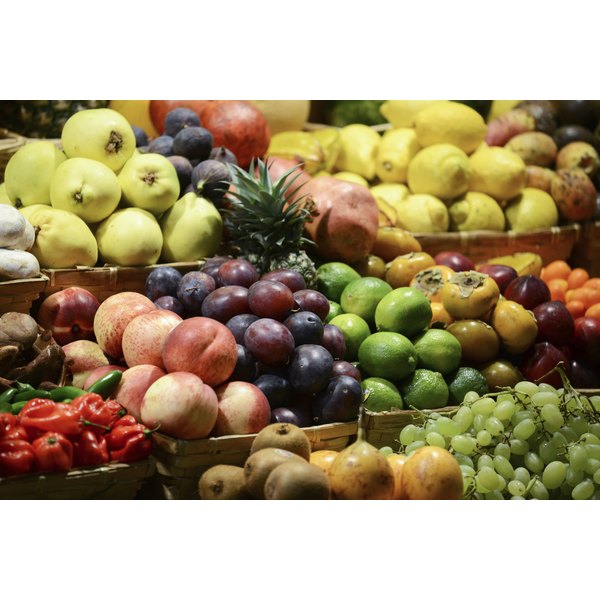 Whether you would like to lose weight or not, snacking is a good idea. Smart snacking that is. In addition to your three squares, adding a couple of 100 to 200 calorie snacks helps stave off hunger, so you are not ravenous at your next meal, keeps your metabolism stoked, and your blood sugar steady. It also helps you squeeze in a few more nutrients. Choose whole foods, such as fruits, vegetables, whole grains and dairy products most often.
Powerful Produce
Fruits and vegetables make a great snack. They are portable, tasty, and full of vitamins, minerals, and dietary fiber, but low in calories. Try these snacks which provide 100 to 200 calories each: 1/2 banana spread with 2 tsp. peanut butter, 1 medium-sized apple drizzled with 1 tbsp. of caramel topping, 1 large grapefruit, 25 seedless grapes, 2 cups of either mango chunks or raw raspberries, 1/2 cantaloupe with a scoop of cottage cheese, or 1 cup fresh strawberries topped with a large dallop of light whipped topping. How about crunching on 1 cup of broccoli and cauliflower flowerets (with a few sweet grape tomatoes sprinkled in) dipped in 2 to 3 tablespoons of low-calorie creamy ranch dressing? Slice up a whole, raw, sweet red bell pepper and dip in 3 tbsp. of hummus (any flavor). Prefer something warm? Steam up about 50 edemame (raw soybeans) and top with a pinch of salt for flavor or microwave 1/2 cooked sweet potato (about 2 inches in diameter, 5 inches long) until soft and top with 1/3-cup unsweetened applesauce and a pinch of cinnamon and/or nutmeg.
Dairy Products and Lean Protein Foods
An 8-oz. glass of low-fat chocolate milk will only set you back about 150 calories. It offers the perfect combination of protein and carbohydrate. String cheese is another great choice at about 70 calories each (per ounce). The latest craze in yogurt is Greek-style. It's a little pricey but very rich and creamy, even the fat-free version (which offers about 70 calories for 4 ounces and lots of protein and calcium). Add a tablespoon of honey or jam to the plain version for a bit of extra flavor. Spreadable wedges of Laughing Cow Swiss cheese are tasty, low-calorie, and protein-rich (about 35 calories per wedge). Spread a couple on 2 Ry-Crisp crackers. Or try Babybel light cheese (50 calories each). Eggs are low in calories but provide excellent quality protein. Try a hard-boiled egg with 1 slice of Melba toast. Tuna comes in snack-sized cans. Stuff 1-oz. of water-packed chunk light tuna in 1/2 whole wheat mini pita with a few fresh spinach leaves. All of these snacks offer less than 200 calories.
Packaged Goodies
Snack bars or granola bars are tasty and can be nutritious. Look for a variety that offers less than 140 calories, less than 10 grams of sugar (ideally 8 grams, or 2 teaspoons of sugar), at least 2 grams of dietary fiber, and 5 grams of protein. Try Fiber-One bars. They are delicious and come in a wide variety of flavors. TLC makes a line of satisfying, chewy fruit and nut granola bars as well. Balance and Luna bars are fortified so they bars offer up vitamins and minerals, and significantly more protein. Both clock in at 200 calories or less. Craving something a bit less nutritious but still calorie controlled? Try Nabisco's 100-calorie snack packs. There are many varieties, including Oreo wafers and Teddy grahams. Graham crackers are a nice blend of part cookie, part cracker. Enjoy two full sheets with a thin layer of peanut butter spread in-between. For some the ultimate snack food is popcorn. It can be incredibly low in calories, fiber-rich, and it is a whole grain. Go for the 95 percent fat-free, light and you can enjoy a hearty portion as it provides approximately 15 calories per cup.