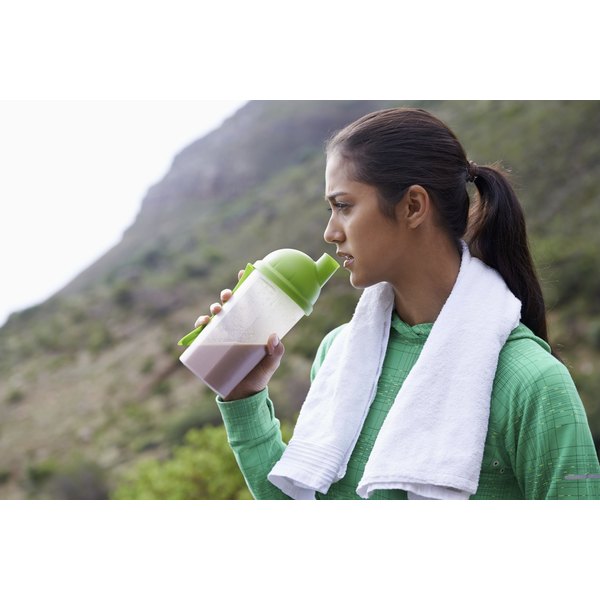 Allmax Nutrition, the manufacturer of Isoflex, suggests you can use its product as a muscle growth and muscle maintenance supplement. Isoflex protein may potentially help active people or people with fast metabolisms gain lean muscle mass. They're advertised as nutritional supplements, and like all supplements, you should read and understand the nutrition facts before you use them.
Function
Isoflex whey protein claims to speed muscle recovery and boost your metabolism through its formula of essential amino acids. This product also contains a higher amount of branched-chain amino acids, which are necessary for protein synthesis and the prevention of muscle breakdown. The manufacturer also suggests that Isoflex is formulated for easy digestion so your body can use its nutrients more quickly.
Ingredients
Isoflex is made with protein isolates, which according to Mike Roussell, a nutrition consultant and author, is the purest protein supplement. This type of protein is usually easy on the digestive tract and contains a higher amount of protein per serving, while keeping the fat and carbohydrates low.
Nutrients
According to the manufacturer's website, Isoflex proteins contain around 111 calories per serving. A serving is considered to be 1 scoop, using the scoop provided in the container, which is equal to 30g. One serving can provide your body with 27g of protein for 108 calories; 0.5g of carbohydrates for 2 calories; and 0.1g of fat for 0.9 calories.
Types
This product is sold in powder and bar form. Isoflex provides only one type of protein powder that comes in chocolate, vanilla, strawberry, orange, chocolate mint and peanut butter chocolate flavors. There is also only one type of protein bar and it comes in chocolate, peanut butter fudge, chocolate decadent almond delight, chocolate caramel crunch and chocolate marshmallow fudge flavors.
Warning
This product contains derivatives of milk. If you are or suspect you may be lactose intolerant, consult your doctor before adding this supplement to your diet.