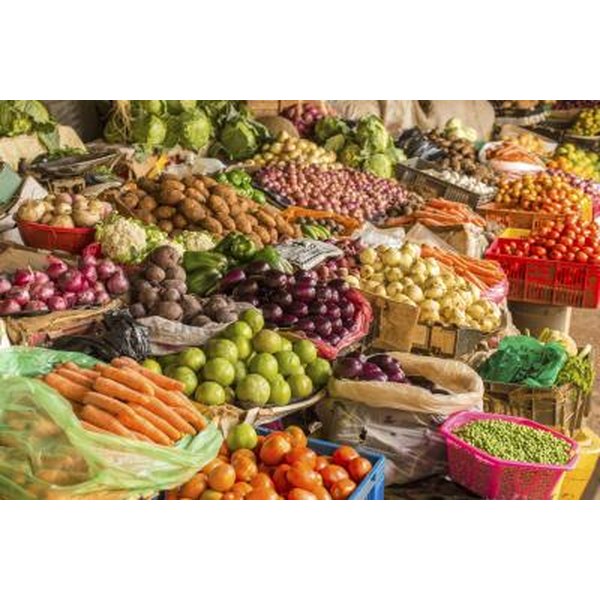 A heart attack is a frightening brush with death. Yet, you can look forward to a healthy, fulfilling future with some modifications to your lifestyle. A study conducted at the Harvard School of Public Health and published in "JAMA Internal Medicine" in 2013 showed that individuals who improved their post-heart attack diet were 40 percent less likely to die of heart disease compared to survivors who failed to adopt better nutrition habits. Work with your physician to develop a diet that fits your unique health needs.
General Guidelines
After your first heart attack, you have an increased risk of a second attack, according to the National Heart, Lung, and Blood Institute. Therefore, it's essential that you begin a heart-healthy diet as soon as you get home from the hospital. You should eat meals rich in low-fat protein, whole grains, fruits, vegetables, legumes, nuts, seeds and low-fat dairy. Limit your intake of sodium, which can increase your blood pressure, and saturated and trans fats, which can cause plaque to form in your arteries. Opt for low-cholesterol foods to keep your cholesterol levels in check. You should also increase your intake of potassium, calcium and magnesium, according to the Cleveland Clinic.
Heart-Healthy Breakfasts
Unfortunately, breakfast favorites such as bacon, eggs and hash browns are very high in sodium, fat and cholesterol. You can still enjoy traditional morning fare with some modifications. Make an egg-white omelet with low-fat cheddar cheese and low-sodium turkey bacon. Instead of potatoes, toast a piece of whole-wheat bread and smear it with a bit of sugar-free jam. On busier mornings, pour a bowl of high-fiber cereal with skim milk and berries.
Low-Sodium Lunches
Deli meats have a heavy sodium content, so you'll have to rethink sandwiches a bit. Make a peanut butter and jelly sandwich with all-natural peanut butter and low-sugar jelly on whole-grain bread, or stuff a whole-wheat pita pocket with low-sodium, low-fat cottage cheese and fresh tomatoes. Eat carrot sticks, celery or a fresh piece of fruit on the side. Another option is a fruit and yogurt parfait with low-fat plain yogurt, berries and low-fat granola.
Diet-Friendly Dinners
Many of your favorite dinner recipes can be modified to fit the heart-healthy guidelines. For instance, make spaghetti and meatballs with whole-grain pasta and ground turkey in place of beef. Or, make a hearty salad with grilled salmon instead of steak. Use beans for protein instead of fatty meat. You can make a tasty burger with ground black beans in place of beef. Opt for the leanest possible cuts of meat, and eat vegetarian meals at least once each week.