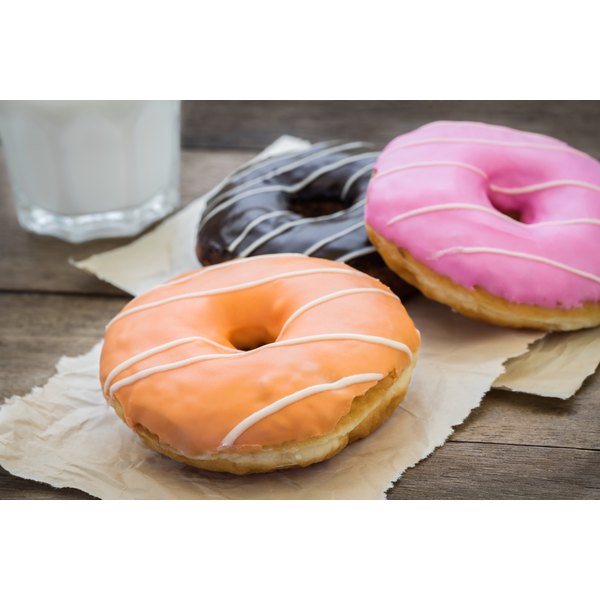 Despite the rather unhealthy nutritional values of in doughnuts, they remain a popular breakfast treat. In 2004, the doughnut business was estimated to be a $776 million-dollar-per-year industry. According to the Oracle Think Quest Educational Foundation, doughnuts were invented in 1847 by a 15-year-old boy who was tired of eating the soggy midsection of his cakes, and thus cut them out. You might think all doughnuts have the same nutrition, but that's not necessarily the case when comparing two popular brands: Dunkin' Donuts and Krispy Kreme.
Dunkin' Powdered Doughnuts
Dunkin' Donuts powdered doughnuts are cakes coated in powdered sugar. In one such doughnut, you can expect 340 calories, with 200 of them coming from fat. There are 22 g of fat, with 10 g being saturated fat. They also have 25 mg of cholesterol, 300 mg of sodium and 38 g of carbohydrates. Powdered doughnuts also contain 13 g of sugar and 4 g of protein, along with 4 percent of suggested daily values of vitamin A, 2 percent of calcium and 6 percent of iron.
Dunkin' Chocolate Doughnuts
Dunkin' Donuts chocolate frosted doughnuts have 370 calories, of which 210 come from fat. They also have 23 g of fat, of which 10 g are saturated, 25 mg of cholesterol and 320 mg of sodium. Frosted doughnuts have 45 g of carbohydrates, 1 g of fiber, 20 g of sugar and 4 g of protein. They also contain a 4 percent daily value of vitamin A, 2 percent calcium and 8 percent iron.
Krispy Kreme Chocolate Doughnuts
Krispy Kreme chocolate doughnuts contain 270 calories, of which 120 are from fat, totaling 13 g of fat and 3 g of saturated fat. They have 20 g of cholesterol, 320 mg of sodium and 36 g of carbohydrates. The powdered version has less than 1 g of fiber, along with 20 g of sugar and 3 g of protein. There are no vitamins and minerals, according to the nutrition label.
Krispy Kreme Powdered Doughnuts
Krispy Kreme powdered doughnuts contain 260 calories. Of those, 120 come from fat -- 13 grams of it, of which 3 g are from saturated fat. They also have 20 mg of cholesterol, 320 mg of sodium, 33 g of carbohydrates and less that 1 g of protein. They also have 15 g of sugar, 3 g of protein and no vitamins or minerals listed.
Daily Nutrition Recommendations
Comparing the nutrition facts of these two types and brands to the FDA's nutritional recommendation, it's clear doughnuts should be eaten in moderation. The FDA recommends only 2,000 calories daily, with 65 g of fat -- of which only 20 g should come from saturated fat. The FDA also suggests ingesting only 300 mg of cholesterol, 2,400 mg of sodium, and 300 g of carbohydrates.