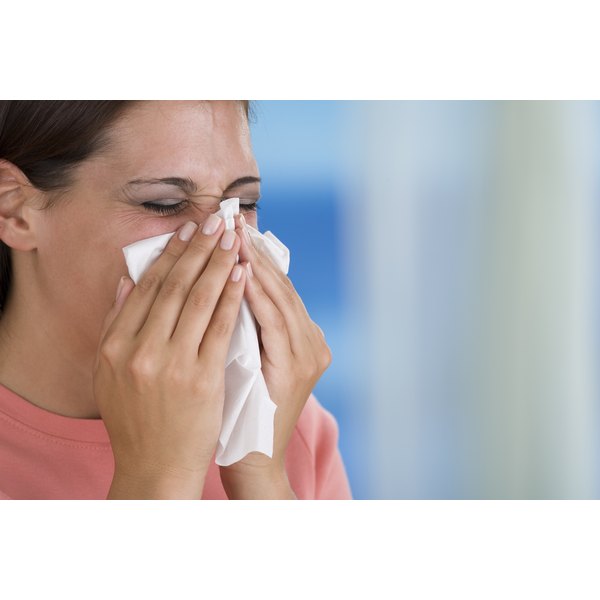 Nobody could blame you for staying in bed when you feel the signs of a cold, but you don't have to consider yourself down for the count when you get the sniffles. If you want to avoid losing fitness or missing out on the psychological benefits of exercise, make sure you determine that you only have symptoms above your neck in the form of sinus pressure, a runny or stuffy nose and sneezing. As long as your cold doesn't move into your chest, try mild to moderate exercises.
Refresh with a Gentle Walk
Heading outside for an easy walk in the fresh air might be just what you need to perk up and start to feel better. When you take a walk, you can take your time and monitor how you're feeling; keep your walk at a comfortable pace so you can enjoy the benefits of exercise without adding stress to your immune system while your body is healing. CNN notes that walking helps encourage taking deep breaths that will help loosen nasal passages.
Swim to Soothe Your Sinuses
Taking a swim while you suffer from nasal congestion might help clear those passages and help you toward recovery. The water might feel refreshing and soothing to your body while you are fighting a cold. If you do go for a swim, pay attention to how the chlorine is affecting your sinuses in case it causes irritability and proceeds to dry out your nasal passages. Otherwise, a relaxing swim will work your entire body, and you can determine the best pace for how you're feeling.
Dance Your Way Back to Health
Go to your gym to take a low-impact Zumba or cardio class to get in some moves. Even if you just stay home and turn on the stereo in your living room, getting up and moving to the music will help relieve stress and not put too much pressure on your immune system or your joints. Take things at your own pace, regardless of what the class is doing or the beat of the music.
Revive your Respiratory System with Yoga
When you practice yoga, you will find specific poses to help you recover from your cold more quickly. "Yoga Journal" recommends several exercises that help clear the sinuses, increase circulation to the chest, relieve stress and tension and improve energy levels while you heal. The standing forward pose helps bring energy to your head and respiratory system as well as clearing your sinuses -- while the supported bridge pose opens up your chest and boosts circulation in the upper torso region.