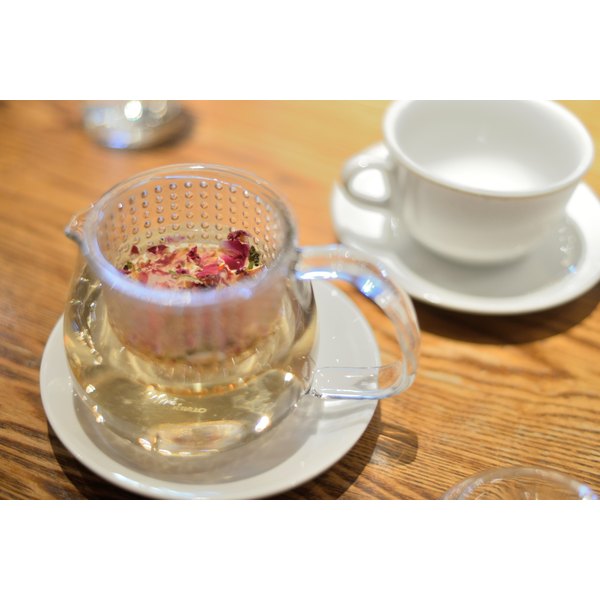 Losing weight may be as simple as drinking a cup — or several dozen cups — of tea a day. The use of five teas that boast pound-shedding power — green, white, oolong, ginger and hibiscus — is backed up by scientific studies. None of the teas can replace old-fashioned calorie-cutting for weight loss, but each can give you an extra edge in your slimming efforts.
Green Tea
Green tea, the most widely studied of the beverages, possesses fat-burning properties that are especially helpful in reducing abdominal fat. The most promising study for dieters is one conducted by Kevin Maki, which compared the effects of drinking green and black tea. Green tea containing 30 times as many antioxidants as black tea helped men lose 5.4 lbs. in 12 weeks compared to a 2.9 lb. loss for the black tea drinkers. The men who drank the green tea also lost substantially more belly fat.
Catechins in Green, White, Black and Oolong Tea
Green, black, white and oolong tea all come from a single plant and are the only genuine teas. Other beverages called teas are more accurately herbal drinks. All genuine teas contain catechins, an antioxidant linked to weight loss in numerous studies. White and green teas contain many more than oolong and black teas. White tea, which contains the highest number of catechins, is believed to be the most effective for weight loss, but this belief is based on logic. White tea, the least oxidized of teas, has not captured enough scientific interest to verify the assumptions.
Oolong Tea
Oolong tea, while lower in catechins than green and white tea, contains specially sized polyphenol molecules that make it superior to both teas for weight loss, according to Guo Xirong, an award-winning obesity researcher in China who conducted a five-year study at the Nanjing Institute for Pediatrics. Masatoshi Nakano, of Japan's Aichi Medical University, says the size of the polyphenols in oolong tea make it a perfect match with an enzyme called liptase. The polyphenols in oolong tea activate lipase to oxidize fat.
Ginger Tea
Scientific studies also link ginger tea to weight loss. Rats who maintained high fat diets but included ginger extract in their menus lost weight in a study conducted by researchers at Kuwait University and published in 2007 in the "British Journal of Nutrition" and also in a study conducted by L.K. Han and reported in 2008 in the "Journal of the Pharmaceutical Society of Japan." The rodents in both studies consumed ginger extract. Ginger tea, if brewed from raw ginger root, would contain the same properties in a less concentrated form.
Hibiscus Tea
Another animal study found a connection between hibiscus tea and weight loss. Mexican researchers F.J. Alarcon-Aguilar and colleagues from the University Autonoma Metropolitana fed obese rodents hibiscus extract and all of them lost significant weight, according to the report published in the "Journal of Ethnopharmacology." The researchers said their study confirmed anecdotal evidence reported by Mexican citizens about the weight loss benefits of hibiscus.
Considerations
If you want to achieve maximum weight loss benefits from drinking tea, it is best to drink in its purest form – by brewing fresh tea leaves, raw ginger root or fresh hibiscus. In Maki's study, for instance, dieters achieved weight loss benefits by drinking the equivalent of six cups of freshly brewed green tea. If they'd consumed bottled green tea instead, they would have needed to drink 55 cups daily. Tea, ginger and hibiscus can be safely consumed by most people, but you should consult a physician before consuming them as a weight loss supplement.