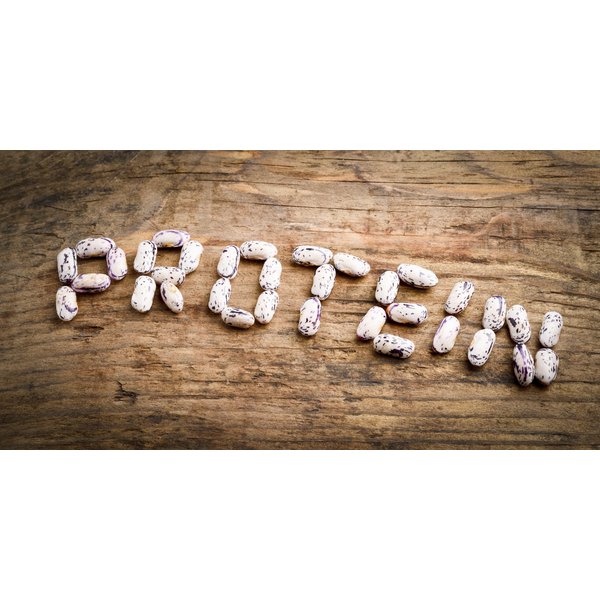 Protein is made of amino acids, two of which are arginine and ornithine. Both are made in the body but can be obtained from food sources as well. Adding extra arginine and ornithine to your diet may have several health benefits, including improved performance during exercise and improved organ function.
Sources of Both Arginine and Ornithine
Dairy products and meats -- particularly ground beef, salmon, milk and cheddar cheese -- serve as sources of both ornithine and arginine. Peanuts, eggs and brown rice all offer both amino acids, as do chocolate and chickpeas. Soy milk and shredded wheat cereal also boost your intake.
Foods With Arginine
Good sources of arginine include seafood such as tuna, lobster, shrimp, haddock, sardines and crab; red meat including pork, liver, bacon, turkey and chicken; eggs; whole grains; different types of nuts such as cashews, hazelnuts, almonds and pine nuts; sesame and pumpkin seeds; and dairy products.
Supplements
Arginine and ornithine are found in tablets, capsules, drinks and protein powder. You can find different doses of the amino acids ranging from 500 milligrams to 25 grams. Ornithine has been associated with less fatigue during exercise, as research published in Nutrition Research in 2008 found. The researchers fed volunteers ornithine each day and recommend taking it as a nutritional supplement to prevent fatigue. Check with your doctor before beginning any new nutrition supplement.
Serving Tips and Suggestions
Begin your day with eggs and shredded wheat cereal with milk for a good source of protein that includes the two amino acids. At lunch, try a side of hummus and raw vegetables with your usual meal. For dinner, try salmon or ground beef with a side of rice and more vegetables. Some snack ideas for before or after your workout that have both amino acids are peanuts, a glass of dairy or soy milk or a cheddar cheese stick.