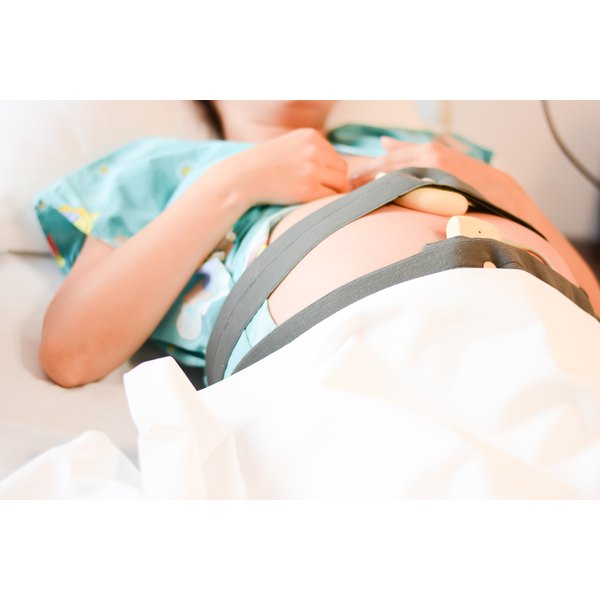 Pregnancy often brings feelings of joy, but it also can create anxiety, especially if you had a previous pregnancy that did not come to term. Several companies market fetal monitors. However, the FDA notes that these devices "are not intended for over-the-counter (OTC) use" but approved for use only with a prescription. Furthermore, researchers Abhijoy Chakladar and Hazel Adams state in the British Medical Journal that home fetal monitors "provide false reassurance."
Doppler Monitor
While daily use of a fetal monitor probably does not directly harm the fetus, there has been little research on its effect. According to an article in the Cochrane Review on the use of Doppler monitoring in pregnancy, "evidence does not provide conclusive evidence that the use of routine umbilical artery Doppler ultrasound or combination of umbilical and uterine artery Doppler ultrasound in low-risk or unselected populations benefits either mother or baby."
False Reassurance
The biggest concern expressed by healthcare professionals about daily home use of a fetal monitor is that mothers might rely on the monitor rather than consulting the midwife or doctor. In addition, other healthcare professionals including Marjorie Greenfield, M.D., say, "You might pick up your own heart, which is slower than the fetus', and worry unnecessarily about how your baby is doing."
Typical Monitoring
Interestingly, there is little evidence of the value of even midwife and physician use of fetal heart tone auscultation, or listening to the heartbeat. An article in the scholarly journal American Family Physician concludes, "Heart tones confirm a viable fetus, but there is no evidence of other clinical or predictive value." If a physician cannot reliably use this method to determine the well-being of the fetus then it is unlikely that a parent can do so.
Cultural Perspective
The demand for home fetal heartbeat monitors exists within a specific culture. Western, technology-based culture takes the attitude that death is unnatural, avoidable, even preventable. This is doubly so for the death of a fetus or baby. As Irving Leon, PhD, adjunct associate professor of obstetrics and gynecology, says, "Perinatal loss is frequently traumatic, occurring quite suddenly and without any anticipation in this age of high technology, where there is the increasing belief that deaths like this no longer occur. Children are not supposed to die before their parents do."
Alternatives
Greenfield recommends that parents who are set on listening to fetal heart tones use the concave side of a stethoscope, which is far more economical than the expensive fetal heart Doppler devices. While this is usually possible only after 20 weeks gestation, many expecting parents find that their need to hear the baby's heartbeat is satisfied in this way.