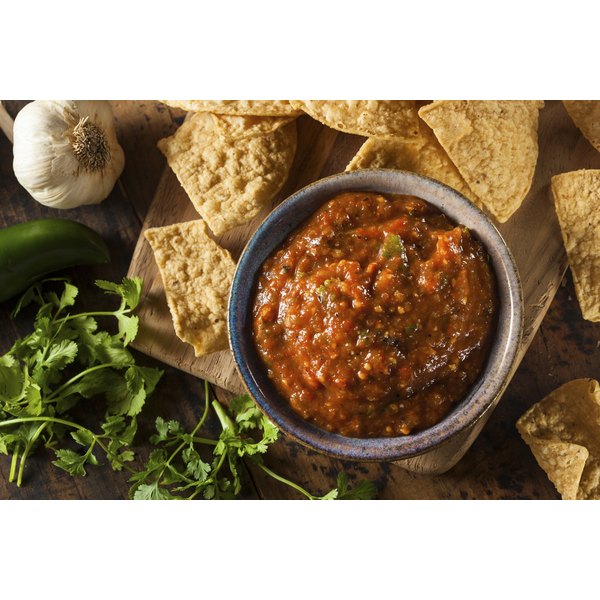 "People have a right to know what's in their food," says Margo Wootan of The Center for Science in the Public Interest, a consumer watchdog group based in Washington, D.C. If you're a nutrition-conscious diner visiting Chili's Grill and Bar, pay attention to the restaurant's nutritional information so you can make smart and healthy decisions about your meal.
High-Calorie Items
Chili's made news in 2009 when some of the restaurant's more indulgent items made it onto a report titled "Extreme Eating 2009" compiled by The Center for Science in the Public Interest. The report noted that Chili's "Big Mouth Bites" mini-burgers with fried onion strings, fries and jalapeno ranch dipping sauce contained 2,350 calories, 38 grams of saturated fat and 3,940 mg of sodium.
Other high-calorie menu items include crispy chicken tacos with 1,650 calories, shrimp tacos with 1,600 calories and the 2,140 calorie jalapeno smokehouse burger. According to the Department of Health and Human Services' dietary guidelines, adults ideally need around 2,000 to 3,000 calories per day, depending on age and activity level.
Healthy Choices
Chili's restaurant offers select items on its Guiltless Grill menu that meet specific healthy nutrition criteria. All Guiltless Grill items contain a maximum of 750 calories, 25 g of total fat and 8 g of saturated fat. Guiltless Grill menu items include salmon with steamed vegetables and rice, a grilled chicken sandwich with honey-mustard dressing and steamed vegetables, and an 8-oz sirloin with carne asada rub and pico de gallo.
Kid's Menu Items
The least nutritious items on the Chili's kid's menu include the cheese pizza, with 570 calories, 24 g of total fat and 9 g of saturated fat, and the grilled cheese sandwich with 520 calories, 41 g of total fat and 12 g of saturated fat. Healthier options include the 150-calorie grilled chicken platter with just 1 g of saturated fat and the 180-calorie grilled chicken sandwich, with no saturated fat. Healthy sides include steamed broccoli, mandarin oranges, celery sticks and pineapple.
Salt Content
The Center for Science in the Public Interest's 2009 report on the restaurant's salt content criticized Chili's excessive sodium use. United States government dietary guidelines recommend 1,500 to 2,300 mg of sodium per day, depending on age and other factors. According to the Center's report, a number of Chili's offerings exceed that daily allowance. For example, Chili's beef fajita quesadillas with rice and beans contain 6,390 mg of sodium. Chili's Guiltless Grill items also contain excessive salt. The Santa Fe chicken wrap contains 1,740 mg of sodium, while the grilled salmon contains 1,430 mg.
Controversy
According to a 2008 Scripps Television Station investigation, a number of popular restaurants, including Chili's, displayed incorrect nutritional information on their menus. In particular, a serving of Chili's grilled salmon analyzed by Boise, Idaho's Analytical Labs contained 35 fat grams of fat, not the 14 grams claimed by the restaurant chain. A spokesman for Chili's parent company, Brinker International, assured consumers that they would work to "reinforce" their menu in light of the investigation.