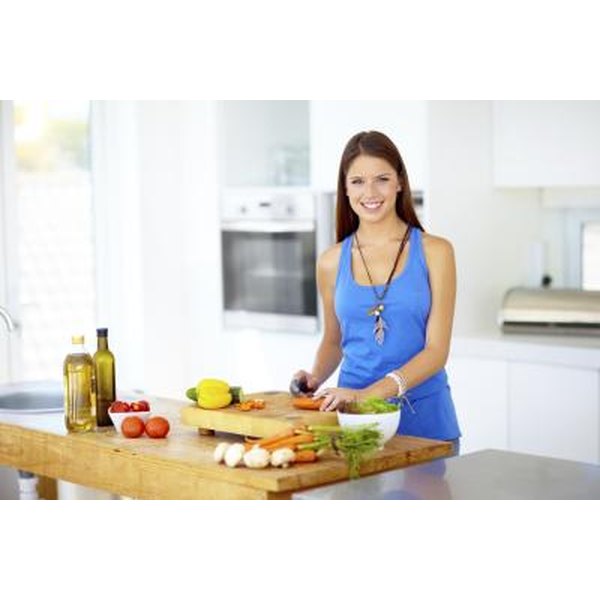 Diet is an important part of cancer treatment because it provides nutrients and energy for the body to help fight the cancer. Regardless of the type of cancer or the current treatment protocol, there are foods that are suitable for most, if not all, cancer patients.
Fruits and Vegetables
Fruits and vegetables are an excellent source of nutrients, vitamins and carbohydrates for a cancer patient. Patients suffering from neutropenia, which is a low absolute neutrophil count, or ANC, should only consume fully cooked fruits and vegetables, as raw produce contains bacteria that may cause problems because of the compromised immune system associated with a low ANC. The exception to this is fruits with a thick skin that can be washed, such as oranges and bananas, notes the Association of Online Cancer Resources.
Protein
Protein sources, such as fish, chicken, beans and lean meat, help to keep the bones' immune system healthy and facilitate growth. It also helps to repair body tissues such as skin, bones and muscles. The American Cancer Society notes that cancer patients may need additional protein following procedures such as chemotherapy, radiation or surgery.
Dairy
Low-fat dairy products are a vital component in a cancer patient's diet. Hard cheeses, such as cheddar, Swiss and mozzarella, low-fat pasteurized milk, and low-fat yogurt are also good options. Some soft cheeses, such as cream cheese, are permissible as long as the patient hasn't been diagnosed with neutropenia. Imported cheeses and moldy cheeses, such as brie or feta, aren't acceptable choices. Mexican cheeses, such as cojita, aren't acceptable either, notes Medline Plus. The cheese should be prepackaged. Cheeses sliced in the deli are at an increased risk of contamination and should be avoided.
Grains
Grains, especially whole grains, are a good source of carbohydrates for a cancer patient. Carbohydrates are a source of energy for the body. Prepackaged bread, doughnuts, muffins, pasta and rice are good options. Cereals are good choices as long as they don't contain fruits or nuts. Bakery breads or products prepared in a store or deli aren't good options. Any potato salad or macaroni salad that is prepared at home is permissible, but store bought varieties aren't.