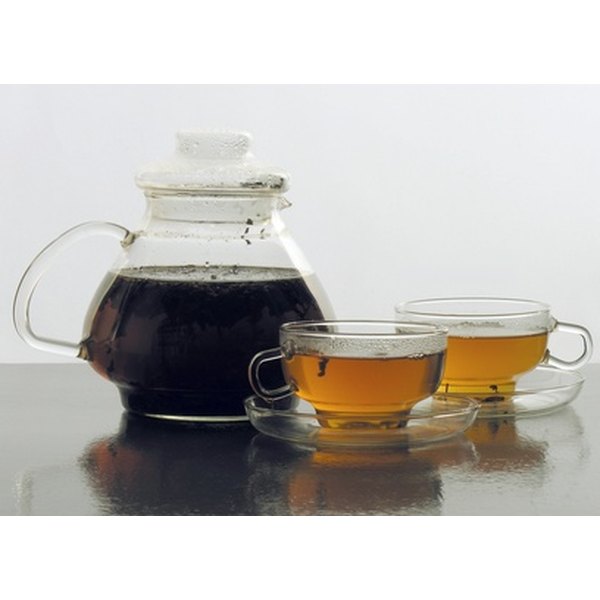 Green tea is made from the leaves of the Camellia sinensis plant, and is highly sought after for its purported antioxidant qualities. According to Mayoclinic.com, some benefits of green tea include relief from anxiety, arthritis, and asthma. If you want to try green tea, but do not want to drink three to five cups per day, green tea capsules are available. Different companies provide various potencies and quality, so do some research before buying. Talk to your doctor before trying them, as they may contain caffeine.
Nature's Plus Chinese Green Tea
According to Benefitsofgreentea.info, just because a green tea supplement is expensive does not mean it is of the highest quality. The website reviewed various brands of green tea supplements and composed a list based on quality of product. Ranking first, Nature's Plus guarantees its supplement is standardized to contain 50 percent polyphenols per 200 mg of decaffeinated green tea extract. Capsules contain 400 mg of green tea extract, according to the company's website, and have no other preservatives. The company recommends taking one per day.
Nature's Herbs Green Tea Power
Benefitsofgreentea.info ranks this company's capsule second on the list. It is high in quality, however, it does not have the same amount of extract per capsule as the first choice. The company also ensures that the product is standardized for 50 percent polyphenols; each preservative-free gelatin capsule contains 333 mg certified potency green tea extract, concentrated and standardized for a minimum of 50 mg polyphenols. The company also formulates using its FreshCare System, which it states guarantees freshness, as it inhibits the oxidation of the plant. It recommends taking three capsules per day.
Source Naturals Green Tea Extract
The third-rated green tea extract comes from Source Naturals. The company offers capsules that contain 100mg or 500mg of green tea, both of which are standardized for 70 mg polyphenols per 200 mg of product. The capsules do contain other ingredients; microcrystalline cellulose, dibasic calcium phosphate, stearic acid, modified cellulose, colloidal silicon dioxide and magnesium stearate may be used to prevent moisture or are part of the capsule itself.
Jarrow's Green Tea
Benefitsofgreentea.info also recommends Jarrow's green tea capsules. Containing 500 mg of green tea extract, the company claims the product is water extracted and consists of 50 percent polyphenols, including 30 percent catechins. The company recommends one capsule per day; however, it does caution you if you are sensitive to caffeine. The product contains 40 mg caffeine per capsule. If you have a medical condition, particularly heart-related, or are pregnant or breastfeeding, talk to your doctor before taking this product.
NOW Foods Green Tea
NOW Foods is the only company to offer green tea extract combined with 60 mg of vitamin C. It guarantees a minimum of 40 percent catechins and 60 percent polyphenols, with each capsule containing 400mg of green tea extract. The capsules also contain 16 mg caffeine; the same caution as above applies to this product as well. The company offers this product in 100 capsule or 250 capsule bottles.