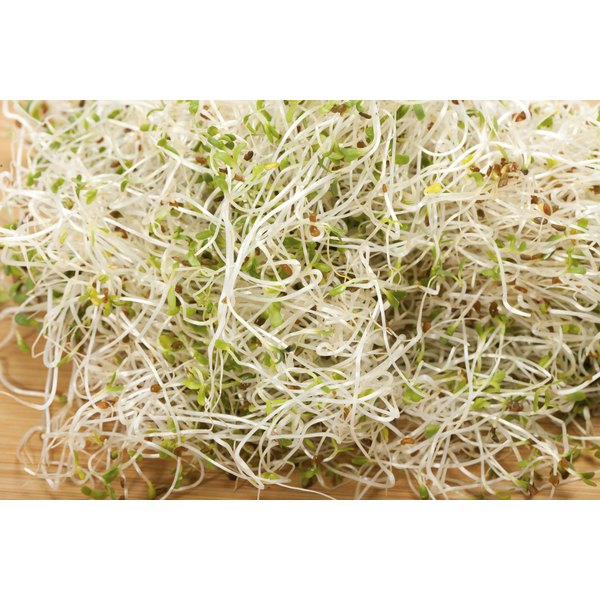 Alfalfa is a common flowering perennial plant that originated in Asia, according to Medicinal Herb Info. One way you may be familiar with eating alfalfa is as sprouts in your salad or on your sandwich. But you may be surprised to know that alfalfa not only packs a nutritional punch, it may offer several significant health benefits too. Before you begin to use alfalfa to treat any health condition, consult your health care provider.
Nutrition
The Nutrition Research Center describes alfalfa as "a nutrient-rich food, high in chlorophyll, vitamins and micronutrients." Eating alfalfa or alfalfa sprouts offers the advantage of more protein than in most plants. Alfalfa is rich in vitamins A, B1, B6, C, E and K as well as calcium, potassium, iron and zinc.
Anti-inflammatory Properties
Alfalfa sprouts have been shown to reduce inflammation in animal subjects. One study on the anti-inflammatory abilities of alfalfa sprouts took place at National Taiwan University Department of Biochemical Science and Technology in Republic of China. The results, which were published in the July 2009 issue of "Journal of Biomedical Science," showed that test subjects fed alfalfa sprouts were less likely to have increased inflammation when injected with compounds that cause inflammation. More tests need to be done to determine how effective alfalfa is as an anti-inflammatory in humans.
Immune System
Alfalfa shows promise as a treatment for autoimmune disorders. One study that supports this was conducted at the National Taiwan University in Taipei, Taiwan and published in the March 2009 issue of "Lupus." This animal study looked at the ability of alfalfa sprout ethyl acetate extract to treat test subjects with autoimmune disorders. The animals given alfalfa had lower T-cell counts and less severe symptoms at the end of the test period. The study concluded that alfalfa has potential for use as a treatment for autoimmune diseases, such as lupus.
Antioxidant Effects & Potential Radiation Protection
Alfalfa may also be able to protect cells from damage from such things as x-rays because of its antioxidant properties. A research study on alfalfa and two other herbal foods found that alfalfa reduced free radicals and cell damage in animal test subjects that had been given alfalfa prior to x-ray. The study was conducted in Antalya, Turkey and its results were published in the January/February 2008 issue of "Photochemistry & Photobiology."
Lower Cholesterol
When left untreated, high cholesterol can lead to several serious medical conditions, such as heart disease and stroke. But studies have shown that alfalfa may help reduce cholesterol levels in human patients. The results of one study were published in the May 1987 issue of "Atherosclerosis" and showed that alfalfa significantly reduced the overall cholesterol levels in the test subjects. In fact, the patients' LDL, or "bad" cholesterol levels were reduced by up to 30 percent by taking alfalfa seeds for a period of eight weeks. Once the study was over, the patients' cholesterol levels returned to their previous levels, indicating that the alfalfa had been successful in cholesterol reduction.