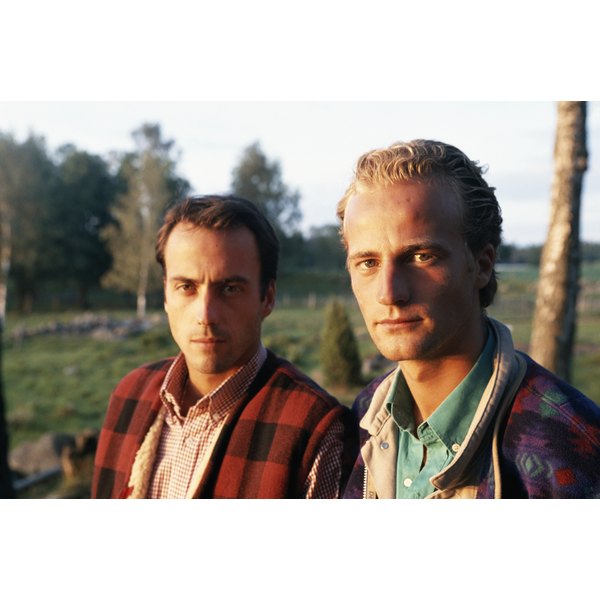 If it seems like your forehead is a bit higher than it used to be, or you can see little glimpses of scalp right at the forehead, you may be dealing with a receding hairline. For many men -- and a significant number of women -- a receding hairline can be a daily frustration and a painful blow to self-esteem. Fortunately, there are ways to minimize the look of your receding hairline with the proper haircuts and clever styling. If all else fails, a professional may recommend more permanent solutions for minimizing recession.
Tips for Men
Ask your stylist to keep your haircut tight and close to the head. The hair on the top of the head -- where you're most likely to see hair loss -- should be trimmed to 1 inch or less. Keep the sides and nape short as well. Longer hair can look stringy and will only call attention to a receding hairline, and long hair brushed across thinning areas -- the dreaded "combover" -- only calls attention to the hair you've lost.

Use a hair dryer to "fluff" hair so that it doesn't lie flat on your scalp. Use your fingers to help direct the hair up at the roots and forward toward the forehead. Slightly tousled hair looks fuller than slicked-back hair and will help camouflage a receding hairline.

Choose hair products with a soft matte finish, such as waxes or pastes. Avoid oil-based hair products or gels that dry to a sticky, shiny finish and cause hair to clump together and look even more sparse around your hairline. Push a small amount of the product into your hair and tousle the hair lightly with your fingers.

Consider asking your healthcare professional about topical, oral or other medical procedures to prevent further hair loss or replace the loss you have. Transplants and grafts, which consist of taking hair from fuller areas to fill out thin spots or reconstruct the hairline, are your most invasive option for minimizing your receded hairline.
Tips for Women
Ask your stylist to trim your hair above your shoulders, which will help mask any thinning that comes with your receding hairline. Consider adding blunt-cut or side-swept bangs that fall across your forehead, which can help minimize the appearance of a higher forehead.

Avoid tight braids and ponytails, or hairstyles in which the hair is brushed back from the face. All of these styles emphasize a receding hairline, and tight hairstyles can cause breakage and more recession. Opt for loose ponytails with face-framing pieces that cover the hairline.

Part your hair on the side opposite where you normally part your hair. You may find that the hair on the other side appears slightly fuller. If you normally wear your hair brushed back from your face without a part, draw a line with the end of a comb from your hairline to your crown to create a part. Experiment with different parts on the sides or in the middle of your forehead, and choose the one that makes your hair look fuller.

Tell your stylist to use semi-permanent hair color, which is less damaging than permanent color and coats each hair shaft to create fuller strands. Choose a hair color that doesn't contrast sharply with your skin tone -- if you have fair skin and brown hair, for example, the point where your hair ends and your scalp begins may be obvious (and you may even see glimpses of scalp beneath the dark hair), which would emphasize your receding hairline. In this case, you can soften the contrast by coloring your hair one to three shades lighter. Coloring your hair lighter than that may require damaging bleach and should be avoided.

Ask your stylist to add highlights and lowlights to your hair. The varying tones in highlighted and lowlighted hair create the appearance of dimension and movement.

Consider a consultation with a professional to discuss treatments that prevent further hair loss or replace hair loss, especially if your hairline is too receded to hide or if losing your hair interferes with your daily life. A professional may suggest options to permanently minimize your receded hairline.

Tip

While hair extensions or weaves may temporarily create more hair fullness in women, attaching them to your hair can cause damage in the long run.