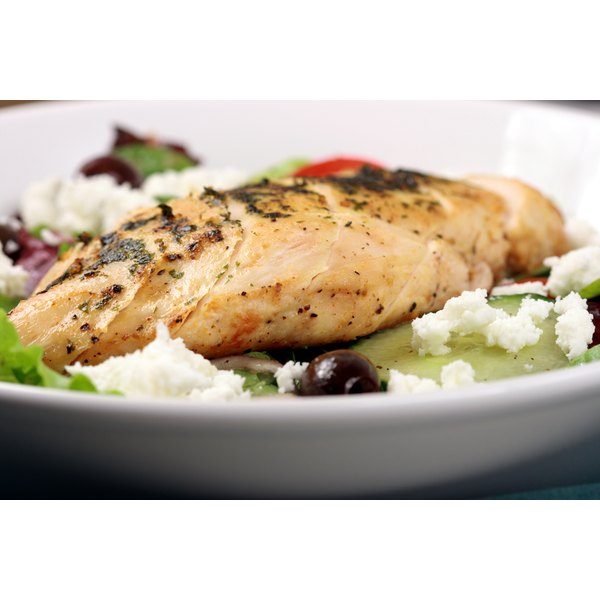 Eating certain foods helps control your overall caloric intake for effective weight loss. The calorie and satiation content of the food you eat determine whether or not that food will aid in weight loss. In general, protein-rich, high-fiber foods are good choices if they are low in saturated fat and don't contain added sugar.
High-Protein Foods
Choosing foods high in protein boosts satiety and may even increase your body's energy expenditure, according to a study published in 2012 in "The British Journal of Nutrition." Lean, lower-calorie protein-rich foods that will help you shed pounds include boneless, skinless chicken breast and turkey, as well as egg whites. A 3-ounce portion of grilled chicken breast provides 26 grams of protein and just 128 calories; 3 ounces of roasted turkey breast contains 125 calories and 26 grams of protein; and a serving of five egg whites contains just 85 calories and 18 grams of dietary protein.
Low-Fat Dairy Foods
Dairy foods are also high in protein and are often beneficial for weight loss. A review published in 2005 in the "Journal of the American College of Nutrition" found that consuming at least three servings of dairy foods daily helps reduce body fat, and eating dairy foods regularly accelerates weight and fat loss when following a reduced-calorie diet. Protein-rich, low-fat dairy foods that can help you lose weight include low-fat cottage cheese, which contains 163 calories and 28 grams of protein per cup; nonfat plain Greek yogurt, providing 133 calories and 23 grams of protein in each 1-cup serving; and protein-fortified skim milk, which has 101 calories and nearly10 grams of protein per cup.
Low-Calorie, Fiber-Rich Veggies
Packed with vitamins and dietary fiber -- which helps boost satiety and decrease hunger, according to a study published in 2013 in "ISRN Obesity" -- nonstarchy veggies help fill you up without the extra calories. Good choices include leafy greens and broccoli. A cup of romaine lettuce contains just 8 calories, while 1 cup of chopped celery provides 16 calories. Feeling full from fewer calories makes it easier to reduce your total calorie intake for more-effective weight loss.
Lower-Calorie Fruits
As with veggies, most fruits are loaded with vitamins and fiber, and some are fairly low in calories, which is beneficial for weight loss. Strawberries and melons are good options when considering lower-calorie fruits. For example, a cup of strawberries or cantaloupe provides about 50 calories. If you are consuming 1,400 to 1,600 calories a day on a reduced-calorie weight-loss diet, you should be getting 1.5 cups of fruit daily, according to the Dietary Guidelines for Americans 2010.