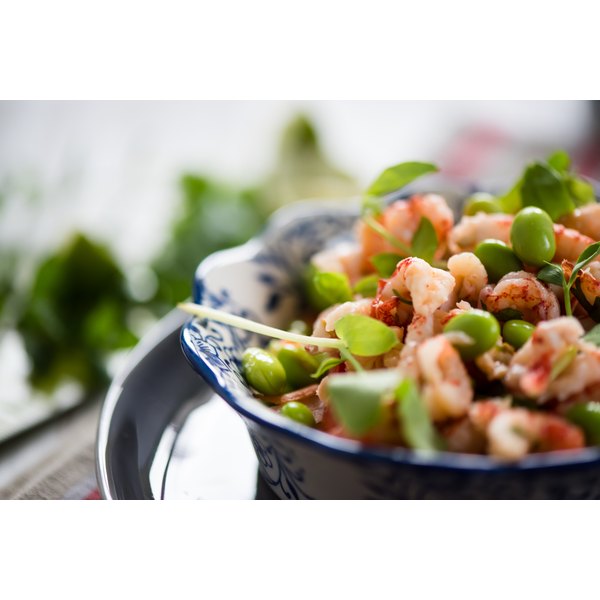 Finding something for lunch that's quick and easy, but also filling and conducive to losing weight can be a challenge. The ideal weight-loss lunch should include nutrient-dense foods relatively low in calories and easy to prepare in advance. If you're taking a lunch break at work, also look for something that will keep you going until dinner.
Lunchtime Rules
The main rule for a healthy weight loss lunch is that whatever you have fits in with your calorie intake for the day. Include protein, vegetables and whole grains or beans in your lunch to ensure you're feeling full and energized all afternoon. Avoid high-sugar items to prevent energy crashes.
Simple, Super Salads
Making the switch from starchy sandwiches and bags of chips to fresh salads is an easy way to cut calories. By making vegetables the main player at lunchtime, you boost the nutritional value of your lunch and get plenty of fiber, helping you feel full, notes Brierley Wright, dietitian and editor of the Eating Well website. Aim to use four or five different types of vegetables or salad items of varying colors. Lettuce, spinach, cabbage, radishes, carrot, scallions, beets, cucumber, carrot and mushrooms are all good choices. Add some form of protein, such as cottage cheese, meat or fish and then dress with a low-calorie vinaigrette dressing.
Substitute Sandwiches
Sandwiches and bagels can be very unhealthy, particularly if you choose calorie-dense fillings like cheese or tuna with mayo. Switch your sandwich to a light wrap or pita bread instead, then add low-calorie fillings. Colleen Moody of the ''Fitness'' magazine website suggests a whole-wheat tortilla filled with red pepper hummus, low-sodium turkey and slices of avocado and pickle, or a spinach tortilla with cheese slices, deli meat, tomatoes and spinach.
The Best Bento
A bento box is a Japanese-style packed lunch. The box is divided into sections and each is filled with a different ingredient, giving you a variety of food. Eating Well recommends an egg salad bento box, with egg salad made with low-fat mayo in one quarter, raw vegetables in another, a few small slices of pumpernickel bread and some pistachios in the third and banana slices with blueberries and yogurt in the fourth. Use your imagination when making your boxes, but always include one serving of lean protein and at least one serving of vegetables.