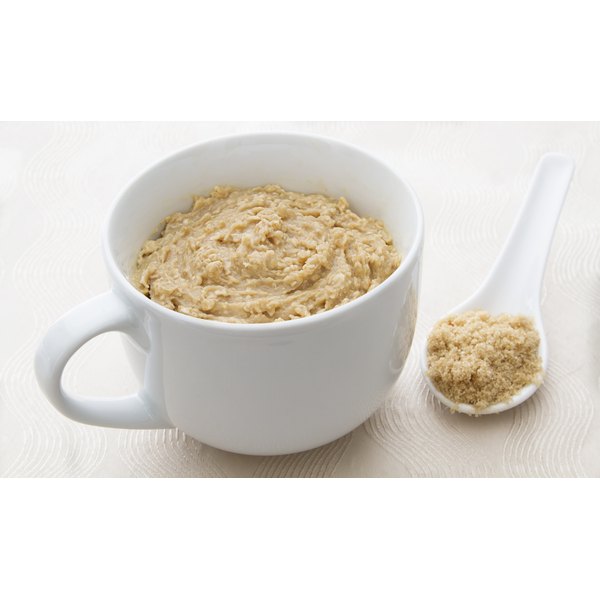 Oatmeal can be an important component of a diet aimed at increasing health and weight loss. Its reputation has not always been ideal, however, as far too many people have been served pasty lumps of it as children. Prepared correctly, however, it is delicious as well as healthy, and works well with many diets.
Lowers Cholesterol
Oatmeal contains soluble fiber, which attaches to cholesterol-containing bile acids as it moves through the body, causing your body to absorb less cholesterol. Eating two servings of oatmeal each day provides three grams of soluble fiber, which is the amount you need to lower your cholesterol by two or three percent, according to Columbia University's student resource "Go Ask Alice." Of course, eating oatmeal as a way to lower cholesterol only works if you eat a diet that is low in saturated fats and cholesterol.
Low In Calories
A serving of oatmeal has only 150 calories. As long as you don't add a generous pat of butter and several spoonfuls of brown sugar, it is an ideal low-calorie breakfast or snack. Oatmeal can be combined with other low-calorie foods to create a meal that is a nutritional powerhouse. Try adding a quarter-cup of blueberries, half of a sliced apple or even a quarter-cup of pumpkin for a boost of extra nutrition and flavor, without a significant boost in calories. Spices such as cinnamon, nutmeg and cardamom can also add to the flavor of oatmeal without adding calories.
Low In Fat
Oatmeal has three grams of fat per serving, all of which is naturally occurring. Most of the trivial amount of fat in oatmeal is monounsaturated or polyunsaturated, which are healthy fats that will not negatively affect cholesterol. Oatmeal remains low in fat when you refrain from adding cream or butter. A dash of nonfat milk or soymilk works well with oatmeal and won't add to the fat content.
Fills You Up
Oatmeal is known for "sticking to the ribs." The soluble fiber in oatmeal provides greater satiety—that is, it makes you feel full longer—than bran cereal, whole grain bread and eggs, according to a report by Mary Ellen Camire, Ph.D., professor of Food Science and Human Nutrition at the University of Maine. If you struggle with feelings of hunger when dieting, a breakfast of oatmeal may be just the ticket, since it is more likely to keep you full until lunchtime than many other breakfast foods.