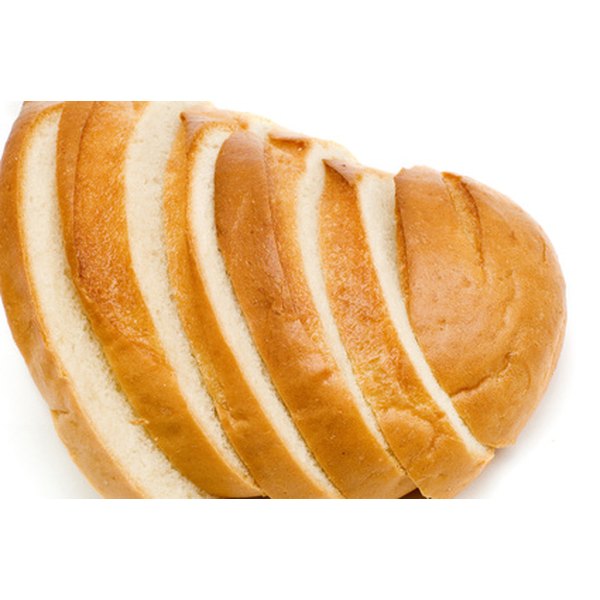 A high-fiber diet offers so many health benefits that it's hard to imagine deliberately choosing a low-fiber diet. But your doctor may prescribe a low-fiber diet to let your intestines rest after bowel surgery or to help address digestive problems like diarrhea or inflammatory bowel disease. This leaves you in the unusual situation of deliberately eschewing high-fiber foods like whole grains and raw vegetables in favor of foods with less fiber.
White Bread and Rice
Choose enriched white bread, which has added vitamins and minerals to make up for what was extracted along with the fiber during the enrichment process. Avoid whole-grain breads, which are usually brown, and don't eat any breads with added nuts, seeds or fruit, which all include extra sources of fiber. Other products made with white flour, including white-flour rolls, biscuits, muffins, waffles, pancakes and French toast, are allowable on a low-fiber diet, according to the University of Pittsburgh Medical Center's "Low-Reside/Low-Fiber Diet" information sheet.
Most of the fiber has been removed from white rice, making it suitable for inclusion in a low-fiber diet as well. Avoid wild and brown rice varieties.
Meats, Dairy and Eggs
Tender meat, poultry and fish are compatible with a low-fiber diet, as published on MayoClinic.com. But you should avoid tough, fibrous meats; they can add bulk to your stools. Most dairy products are also acceptable in a low-fiber diet. But avoid anything with added seeds, nuts or fruit. Eggs are also permitted.
Fruits
Most of fruits' fiber comes from the skin and membranes. For a fruit to be suitable in a low-fiber diet, you should remove the skin, membranes and any edible seeds. Avoid dried fruit, jams, marmalade and preserves, all of which may contain fibrous parts of the fruit.
Vegetables
Raw vegetables are usually considered one of the healthiest foods you can eat. But if you've been prescribed a low-fiber diet, they become a pitfall instead. Steamed vegetables are also a no-no, and some vegetables, like peas, winter squash and broccoli, aren't acceptable even if cooked. But cooked or canned beets, asparagus tips, green beans, carrots and sometimes lettuce are acceptable in a low-fiber diet, says the UPMC information sheet. Strained vegetable juices are also allowed.