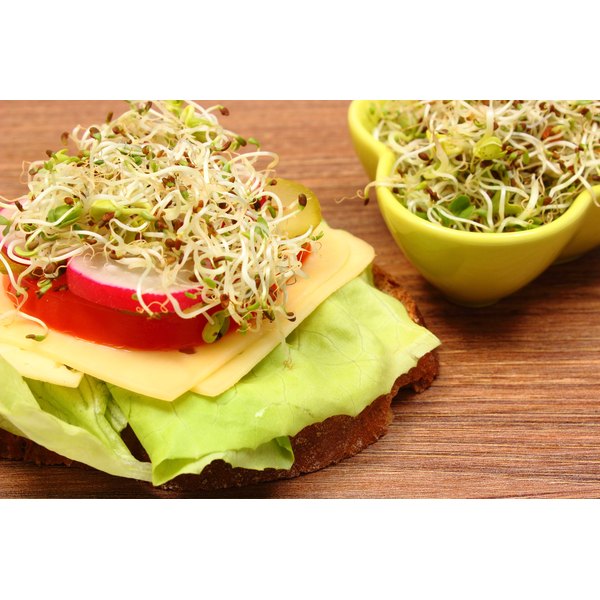 Alfalfa seeds can provide a broad spectrum of nutrition with a vast array of vitamins and minerals. This herb is used in a variety of medicinal applications as a diuretic, hypoglycemic and most commonly as a detoxifier. It is often combined with other herbs such as dandelion and yucca for a synergistic effect. Consuming alfalfa seeds as a whole food provides the most natural form of this multifaceted plant. Consult with a health professional to determine if alfalfa seeds are right for you.
Cardiovascular Health
Alfalfa may be beneficial in preventing arteriosclerosis and calcium deposits. Plaque and cholesterol buildup may also be reduced by consuming this herb. Alfalfa also works to detoxify the blood. It contains coumarin derivatives, which result in an anti-thrombotic effect. Consuming alfalfa seeds supplies the body with flavonoids that help to relax the smooth muscles of the cardiovascular system. You should consult with your physician before consuming alfalfa in any form, especially if you are diabetic, as it may also reduce blood sugar levels.
Inflammation
Alfalfa is an herb rich in chlorophyll, which helps to purify the blood and eliminate uric acid. This can help relieve joint pain. Folk medicine gives high regard to this herb in cases of arthritis, rheumatism and other inflammation. Dr. Gary Null also includes alfalfa in his herbal recommendations for easing arthritis.
Female Concerns
Alfalfa acts as a natural source of progesterone and phytoestrogens, or plant estrogens. These estrogens act much like natural estrogen in the body. For this reason, the herb is often used to promote better hormonal balance during menopause. Creating a balance between the hormones estrogen and progesterone may also help to alleviate symptoms of endometriosis. According to Andrew Chevallier, author of "Herbal Remedies," alfalfa may be superior to soy for hormone balance in that it does not inhibit iron and calcium absorption. Always consult with your gynecologist or family health professional before using this or any herb in an effort to balance your hormones. Consuming alfalfa while taking hormonal birth control is not recommended without your doctor's permission. Women should not consume this herb while pregnant or nursing.
Digestive Care
Adding alfalfa seeds to your meal may assist in the digestion process. These seeds contain betaine, an enzyme that helps to break down proteins and fats. You will also find that alfalfa has a high beta-carotene content, which helps to strengthen epithelial cells within mucous membranes. This could be the reason that alfalfa has been reported to have a positive effect on ulcers in the stomach, according to Mark Pedersen, expert nutritional author.