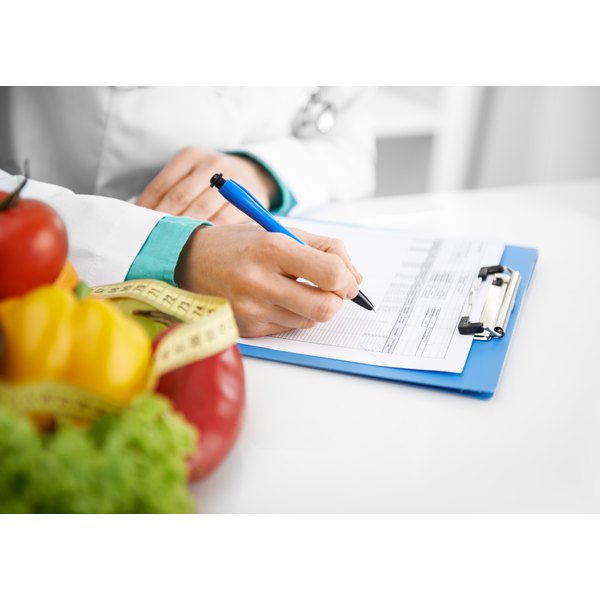 Nutritionists and registered dietitians offer reliable information about healthy eating, diet plans and meal preparation. Nutritionists are health professionals with a master's degree in nutrition, and registered dietitians have at least a four-year bachelor's degree in nutrition sciences. According to the U.S. Department of Labor, more than 60,000 nutritionists and registered dietitians worked in the United States in 2008.
Individual Counseling
A nutritionist's key role is providing patients with counseling and guidance on good nutrition and healthy eating habits, according to the U.S. Department of Labor. Most nutritionists provide counseling in hospitals, nursing homes, outpatient care centers and physicians' offices, but some nutritionists offer home health services, instructing people in grocery shopping and meal preparation at home.
Group Instruction
Nutritionists also teach larger groups how to make healthy food choices. Community dietitians work in public health clinics and health maintenance organizations, instructing and evaluating nutritional care plans for diverse groups of people. Some registered dietitians and nutritionists also consult with food manufacturing companies, providing dietary analysis and advice on recipes' nutritional content, according to the U.S. Department of Labor.
Special Diet Recommendations
People with chronic health conditions, such as high blood pressure, heart disease, diabetes or high cholesterol, receive specialized dietary modifications from their nutritionists. Nutritionists work with physicians to create a dietary plan based on the patient's health needs, according to the U.S. Department of Labor. For example, nutritionists provide people with high blood pressure recipes and meal plans that contain little sodium. Some nutritionists even specialize in treating patients with specific health care needs, such as those with kidney disease, diabetes or critical illness. Geriatric nutritionists specialize in the nutritional needs of the elderly, and pediatric nutritionists focus on the nutritional needs of infants, toddlers, children and adolescents.
Recipe Development
Nutritionists don't just work with people--they also work with raw food ingredients to develop, analyze and test recipes for people with special health care needs, according to the U.S. Department of Labor. A nutritionist may create and prepare low-fat, low-cholesterol, low-salt, low carbohydrate, allergen-free or chemical-free recipes for individuals or institutions.
Facility Management
Nutritionists also help larger facilities provide healthy, nutritious meals to their residents. Hospitals and health care facilities, corporate cafeterias, schools and prisons typically use the services of a nutritionist, who analyzes the nutritional value of foods, develops menus and adheres to food budgets.