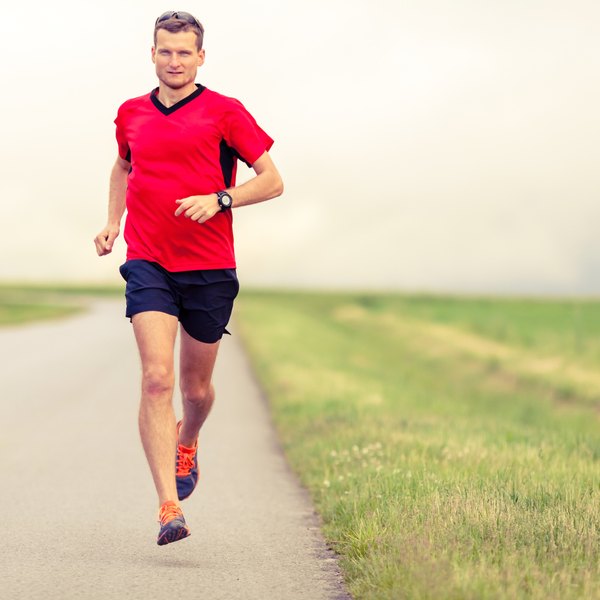 Causes of fertility problems appear to be split fairly evenly between female and male issues. Fertility is related to overall health, and the key to conception is to seek moderation and balance throughout your lifestyle. Some men make running a mainstay of their regular fitness activity. It is possible to overdo it and hurt fertility, including your sperm count.
Significance of Sperm Count
Zero or low sperm count is the most common cause of male infertility, the American Society for Reproductive Medicine reports. "Sperm count" refers to the percentage of sperm cells found in ejaculate by semen analysis. While low sperm count is certainly the most commonly mentioned form of male-factor infertility, it is not the only point of concern. Sperm cells' shape (morphology) and movement (motility) can also affect a man's fertility.
Benefits of Running
Weight, specifically body-mass index (BMI), has been shown by research to affect fertility. Some patients seeking consultation for infertility are instructed to make healthier changes to their lifestyle — specifically, to lose weight. A study published in 2007 in the journal "Human Reproduction" saw an increase in infertility as male BMI increased.
Running on a regular basis can be an efficient way to control BMI. However, given its possible negative effects, fertility experts are more inclined to recommend less stressful exercise for their patients.
Warnings Against Running
Hormones are responsible for production of sperm cells, research published in the "Journal of Andrology" in 2007 confirmed. Further, a study published in the "Journal of Endocrinology" in 2009 measured hormonal responses and sperm quality of men engaged in long-term strenuous exercise by treadmill. Researcher Mohammad Reza Safarinejad and his team concluded that such exercise diminished male fertility.
Expert Insight
Dr. Philip Chenette of the Pacific Fertility Center points out varying study results linking running with male infertility. He advocates moderation, and recommends that men who are pursuing fatherhood avoid high-intensity training.
Dr. Michael Werner, a specialist in male fertility, agrees that moderate exercise is fine, and also cautions men who want to become biological dads against strenuous exertion. Werner says running more than 100 miles per week can lead to decreased spermatogenesis, or the creation of new sperm cells.
Prevention/Solution
As Safarinejad's "Journal of Endocrinology" study demonstrated, the hormonal responses and resulting decrease in sperm quality due to over-exercise revert to pre-exercise level when men discontinued high-impact exercise.
Balancing the need for healthy BMI with the importance of not overdoing it can present a challenge for some fertility-minded runners. To promote their own fertility, some men will choose alternatives to running that are less stressful. Runners can also consult experts, such as certified personal trainers at your local gym or those listed by the American College of Sports Medicine, for guidance.