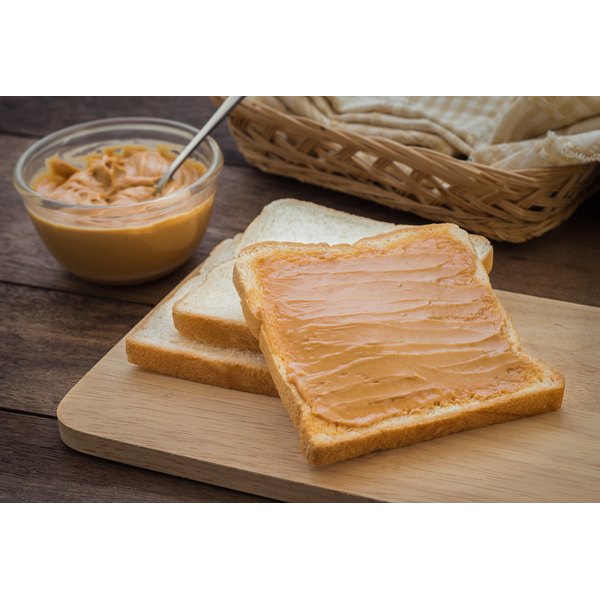 Peanut butter's highly allergenic quality means most parents wait until their child becomes a toddler before introducing it. Peanut butter sits in the food groups responsible for 90 percent of food allergies, according to BabyCenter's Medical Advisory Board. This, and the fact that peanut butter can cause life-threatening allergic reactions including severe vomiting and breathing difficulties, means you need to be observant and careful when introducing peanut butter to your toddler for the first time.
Keep a food diary to keep track of food introductions. Write down the date you introduced peanut butter to your toddler. Watch him closely and document any changes you witness such as rashes or changes in bowel movements.

Give your toddler peanut butter at home, not at a restaurant, with other foods she has eaten previously. Introduce the peanut butter in the morning so you have a full day to monitor her reaction. Purchase an oral histamine to keep at home to administer if she does experience symptoms of an allergic reaction, such as hives or itching.

Wait three days before introducing other new foods. Continue to give him peanut butter throughout the three days. Document any physical changes in the food diary.

Take the food diary to your toddler's doctor's office at her next check-up to discuss the results, if you notice any minor changes after introducing the peanut butter. If she experiences obvious signs of an allergy, such as rashes or itching, stop offering her peanut butter and schedule an appointment with her doctor. Her physician can advise on how to handle the possible allergy and will likely refer you to an allergist who can test her for a peanut allergy.

Warnings

Call 911 if your toddler has trouble breathing, experiences swelling of the face or lips, or has severe vomiting or diarrhea after eating peanut butter.

Watch your toddler every time he eats an allergenic food such as peanut butter as a food allergy can present itself even after he has consumed the food with no previous problems.