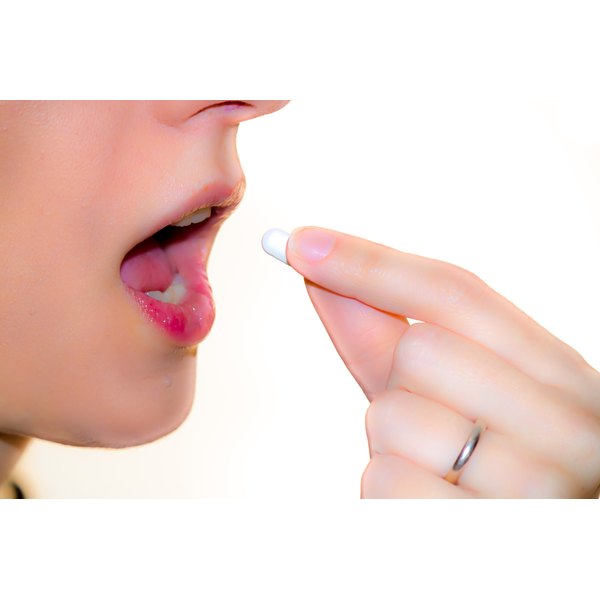 It would be nice to think that all you have to do to lose weight is pop a pill. Unfortunately, any weight loss that might occur when taking diet pills could come at a high price. The U.S. Food and Drug Administration has a history of issuing warnings about weight-loss tablets that pose a potential health threat.
Lack of Safety Regulation
If you think the Food and Drug Administration closely checks the safety of over-the-counter weight-loss pills before they hit the market, you're wrong. Dietary supplements and weight-loss aids don't fall under the same regulatory standards as prescription medications. A manufacturer only needs to show limited proof of safety and effectiveness. Once a product goes on sale, then the FDA can monitor its safety and issue bans or recalls of products that turn out to be dangerous.
Lack of Effectiveness
The makers of diet pills make big claims about the benefits of their products. Unfortunately, there's not much evidence to back up those claims. The February 15, 2012 issue of the "International Journal of Sport Nutrition and Exercise Metabolism" reports that there is insufficient reliable evidence to rate the effectiveness of common weight-loss pills. Examples of these are products such as bitter orange, chitosan, chromium, country mallow and hoodia. The report does state that green tea, combined with a healthy lifestyle, may assist with a small weight-loss over time.
Stroke, Heart Problems and Depression
In 2008 and 2009, the FDA issued warnings about 69 weight-loss products that were on the market. It cited concerns the products contained "undeclared, active pharmaceutical ingredients." Many of the products on the list contained sibutramine, which is a controlled substance that can cause high blood pressure, seizures, rapid heartbeat, palpitations, heart attack or stroke. Another ingredient found in the products was rimonabant, which did not have FDA approval for sale in the U.S. It has been approved for sale in Europe, but it's been associated there with increased risk of depression and suicidal thoughts.
Liver Problems
Orlistat has been approved by the FDA for use in the prescription medicine Xenical and the over-the-counter weight-loss medicine Alli. However, the FDA warns there is a potential, rare occurrence of liver failure if you take these medicines. If you use the medicine and experience signs of liver injury, such as itching, yellow eyes, dark urine, light-colored stools or loss of appetite, discontinue use and seek medical attention as soon as possible.
Cost
Diet pills come at an economic cost, too. You could find yourself spending lots of money on products that may not be effective and may be harmful. If you're serious about losing weight, consider saving money on pills and spending it on healthier food items instead.