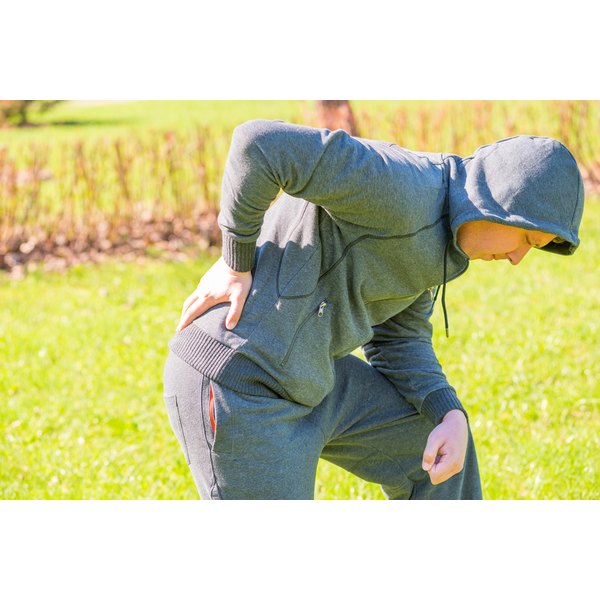 The American Academy of Family Physicians recommends the use of pillows to help control the symptoms of lower back pain while asleep. It is suggested that you use a pillow that supports the neck well. Pillows under the back or between the knees are also advised for back pain relief. You can find pillows specially designed for back pain sufferers.
Contour Sleep Back Wedge
This pillow is sold through the Relax the Back website and targeted to individuals who suffer from lower back pain. Other benefits claimed by the manufacturer include a reduction in muscle spasms and spine pressure and improved blood circulation. The wedge shape allows you to use it while sitting up or lie back onto it for sleep. While lying down on the back wedge pillow, you will experience the zero-gravity position.
Bicor Back Pain B'Gone Set
Linens 'n Things retails this moderately priced pillow set to help stop lower back pain. It achieves this by encouraging you to sleep in the correct and supported position at night. The pillow inflates in order to allow you to reach your comfort level. The set comes with two pillows: one to place under your neck and the other under your knees. To reduce back pain, it is encouraged by the manufacturer to use these pillows while sleeping on the back.
Magnetic Lumbar Relief Pillow
This back pain pillow is sold online through stores, such as NewEggMall and Amazon.com, and is manufactured by the company Deluxe Comfort. It has a curved design and is constructed from memory foam for optimal comfort and the ability to adapt to your body shape. Inside the pillow, you'll find a set of Gauss magnets. Magnetic therapy is used for the treatment of back problems, such as back strain and herniated disks. The pillow is placed under the back to cushion the area while exposing it to the magnetic energy.