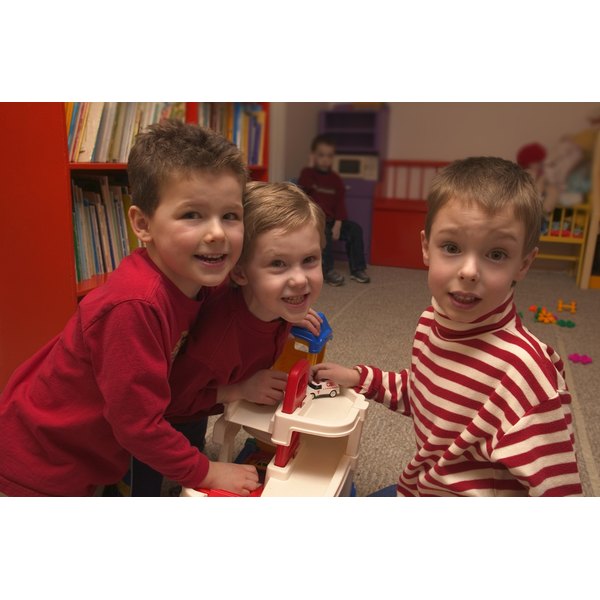 According to the National Association of Child Care Resource and Referral Agencies (NACCRRA), in 2009, the average cost of full-time child care for a four-year-old exceeded the cost of a four-year education at public colleges in 40 states. Parents struggle to pay for day care and single parents find it nearly impossible to afford quality care for their children while working or going to school. However, there is help for parents with day care costs.
The Child Care and Development Fund
The Child Care and Development Fund, a program of the U.S. Department of Health and Human Services, provides child care grants each year to state, tribal and U.S. territory governments to assist low-income families. The program uses vouchers and provider contracts to provide subsidized child care to eligible families, which include parents and the primary caregivers of children 12 years of age and under, or disabled persons under 19 years of age. Eligible applicants are employed, enrolled in a job training or education program, or are under court supervision directives that require child care. HHS provides state and tribal contacts on its Web site. Local departments of social services can also provide information about the program.
Head Start
The Head Start Program, administered by the U.S. Department of Health and Human Services (HHS), provides grants to local private, nonprofit and public agencies to provide child care services to low-income families. Head Start focuses on parental involvement, child development and preparing preschoolers to succeed in school. Head Start programs accept children from birth to five years of age, including homeless children, children in foster care and children whose families receive public assistance. Local Head Start programs are authorized to accept a certain percentage of children whose family incomes are above the poverty level and, under certain conditions, pregnant women. HHS provides on its website a Head Start Program Locator Tool.
Child Care Access Means Parents in School Program (CAMPIS)
The CAMPIS program, which is adminstered by the U.S. Department of Education, provides grants to support campus-based child care services for low-income parents enrolled in post-secondary education programs. Grants may also be used by the educational institution to meet the child care needs of its community. An example of a CAMPIS-funded program is the West Virginia University's Student Child Care Assistance Program, which awards income-based child care grants to eligible students whose children are in the care of approved child care providers. Financial aid offices at educational institutions can provide information about CAMPIS programs.