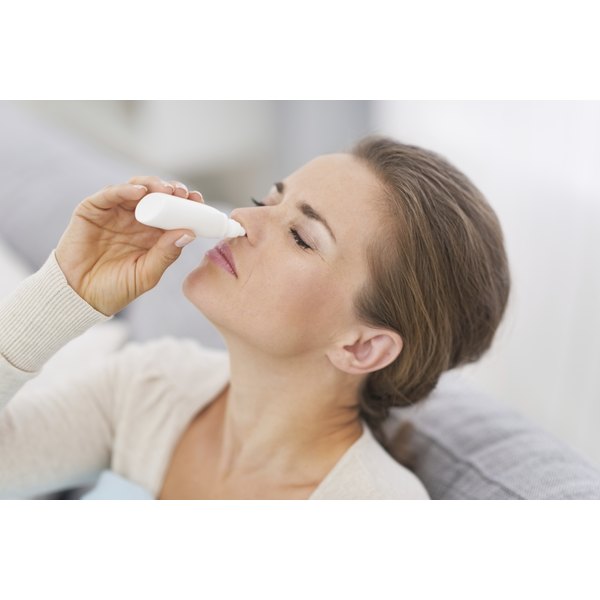 Nasonex is a nasal spray available by prescription only, and is used to treat nasal allergy symptoms including runny nose, congestion, and sneezing. The U.S. Food and Drug Administration has approved Nasonex for use in adults and children two years of age and older. Nasonex treats allergy symptoms caused dust mites, pet dander, tree and grass pollen. The active ingredient in Nasonex relieves allergy symptoms within 11 hours of initial use, and maximum benefit is seen in one to two weeks.
Active Ingredient
The active ingredient in Nasonex is mometasone furoate, an anti-inflammatory corticosteroid. The exact mechanism of action is unclear, but it is believed that mometasone furoate blunts the inflammation response of various cell types that are triggered by allergens such as pollen. Mometasone furoate is undetectable in the blood after administration, virtually eliminating the potential for drug-drug interactions. There are no known affects on the kidneys or liver, making it generally safe for those with kidney or liver disease.
Dose and Administration
Nasonex nasal spray contains 120 total sprays and each delivers 50 mcg of mometasone furoate. Prior to use, the spray should be pumped 10 times until a fine mist appears. Adults and children over 12 years old should use two sprays in each nostril once daily for a total daily dose of 200 mcg. Children between two and 12 years of age should only use one spray in each nostril once daily for a total daily dose of 100 mcg.
Side Effects
Nasonex is generally well tolerated, but some of the side effects may occur because it is administered intranasally. Common side effects include headache, viral infection, sore throat, nosebleeds and cough. Rare side effects include oral fungal infection, slow wound healing and eye problems. Patients with suppressed immune systems should use Nasonex with caution. Notify your doctor if you experience any of these side effects.