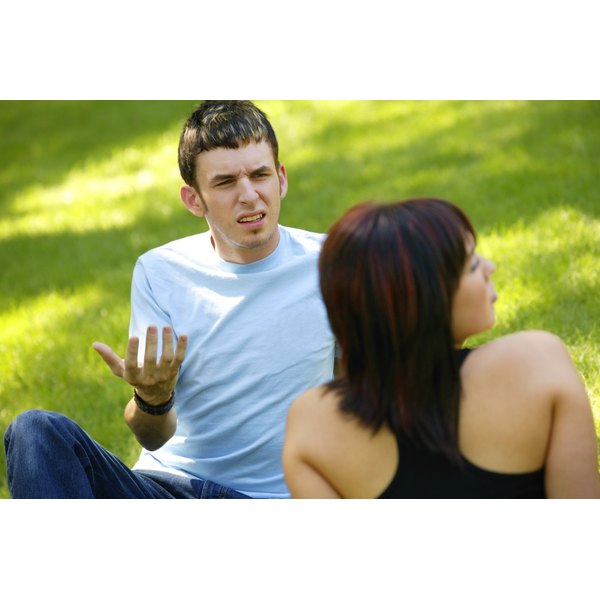 When a person close to you, such as your husband, succumbs to a drug addiction, the consequences can be significant. Your husband may lose his job, be unable to parent your children, pull away from your relationship and begin spending increasing amounts of time outside the home and possibly in dangerous situations. The National Mental Health Association reported that 3.6 million people in 2000 would have met the mental health diagnostic criteria for being dependent on illicit drugs. It may feel like you are the only one dealing with a drug addict, but the reality is that drugs are powerful and have been known to take hold of many people's lives.
Protect yourself. Having a husband who is addicted to drugs can put you at increased risk for a number of things such domestic violence, violence from drug dealers, financial problems and serious health risks. Have a safe place to go when your husband is intoxicated with drugs. Avoid interacting with your husband when he is intoxicated. Maintain a source of income that is only yours. Do not share bank accounts with your husband. If you suspect that drug dealers are at your house, call the police. Use protection when you engage in sexual activity with your husband if he uses needles to take drugs; this will decrease your chances of getting an STD.

Talk with your husband about his drug addiction when his is sober. Inform him how it is negatively affecting your relationship. Tell him that you are fearful that his drug addiction will cause him to die or seriously injure someone else. According to the National Mental Health Association, 14,000 Americans lose their lives to drug abuse annually.

Ask him to get help. The MayoClinic.com reports that there are a number of different treatment options for a person addicted to drugs, including outpatient programs and inpatient programs, which will help a person reach sobriety and remain sober. Inform your husband of his different treatment options. Suggest that your husband talk to a doctor about getting a referral into treatment.

Involve other people who are close to and care about your husband. Make other supportive and trustworthy people aware of your husband's drug abuse problem. Ask them to offer their support, and if he has not become involved in treatment, have them ask him to begin treatment.

Tip

If your husband does not agree to stop using drugs, it may be necessary for you to evaluate whether you should remain in the relationship. If children are involved, it may be necessary for you to leave your husband until he decides to achieve sobriety in order to ensure their safety.