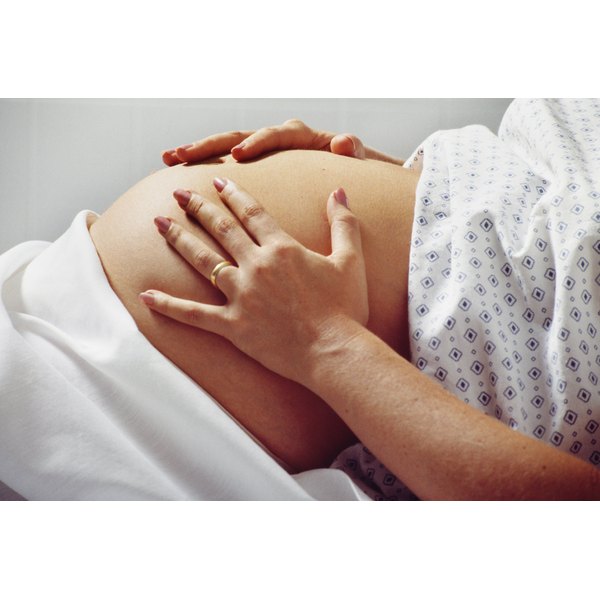 Packing for the hospital ahead of time allows you to check one more thing off your "to do" list as you prepare for the birth of your baby. You want to pack items to keep you as comfortable as possible during and after labor, and some items your baby will need for its trip home from the hospital. The Baby Center website suggests you divide items into two bags -- one for items you'll need during labor, and one for items you'll use after the baby is born.
Photo ID and Paperwork You Will Need
Bring your picture I.D., insurance card and any other insurance information you might need. You may also want to bring notes or handouts from childbirth classes, and a notebook to write down questions you may have, instructions the doctor gives you to take care of yourself and your baby at home, or instructions from a lactation counselor.
Personal Care Items
Keep yourself comfortable with your favorite hand lotion and lip balm for lips that may become dry during labor. Pack some hair clips or ponytail holders to get your hair up off your face as you labor. You'll want toothbrush, toothpaste and hairbrush, as well as a little makeup to freshen up for the trip home. Pack your favorite shampoo, conditioner and shower gel to clean up after the birth. If you wear glasses or contact lenses, be sure to bring those and any supplies to take care of them. Bring any medication you take.
Clothing for the Hospital and the Trip Home
Pack a comfortable robe and slippers, a nightgown and comfortable clothes with non-binding waistbands. Bring a pair of thick socks to wear during labor -- hospital rooms can sometimes be chilly. Baby Center suggests you bring two nightgowns -- ne to wear during labor and a fresh one to change into afterwards. When choosing an outfit to wear home, Southeast Georgia Health System suggests that you consider a loose outfit you would have worn at about five months pregnant. If you're going to breastfeed, don't forget a nursing bra. You'll want to pack an outfit for the baby, as well as blankets for the trip home. Most hospitals will provide newborn diapers; check with your hospital to make sure.
Soothing Music and Hard Candies
If you have favorite soothing music you want to play during labor, be sure to bring it along. Some hard candies to suck on during labor can help with dry mouth. Pack some snacks for your labor partner. Bring a book or magazine to read during down time. If you have a favorite bed pillow, plan to bring that along. Southeast Georgia Health Systems suggests that you cover your pillow with a brightly colored pillowcase so that it will stand out from hospital pillows.
Camera and Memory Book
Don't forget the camera. Some people like to bring a memory book for visitors and hospital personnel who help with the labor to sign. Make a list of people you want to notify about the birth, along with their phone numbers or email addresses. In the excitement of the moment, it's easy to forget these things.