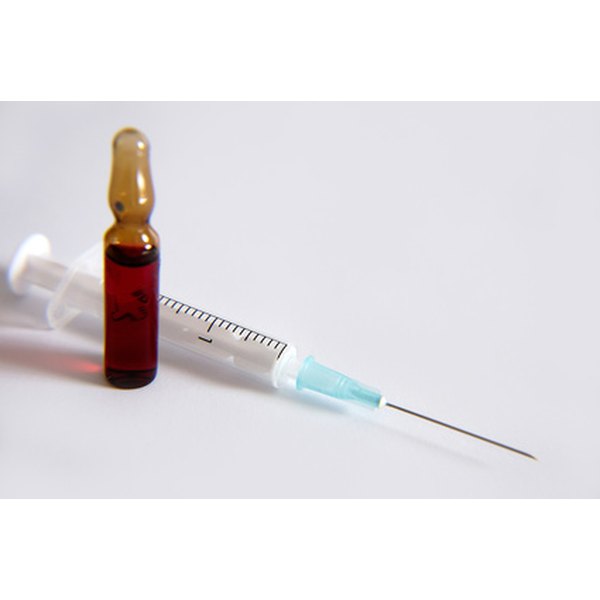 Human growth hormone, or HGH, promotes development and regeneration. Many children and adults with growth hormone deficiency may benefit from HGH intake without experiencing negative side effects. These people can, for example, use HGH to lower body fat. Stomach acids break down growth hormone, so most types of HGH require subcutaneous injection. Yet patients can use the Saizen product without needles. This brand of growth hormone has other benefits, as well.
Body Weight
Bodybuilders and weightlifters often use HGH as a way to increase lean body mass. Patients having difficulty maintaining their body weights may benefit, as well. A 2001 experiment reported in the "Journal of Clinical Endocrinology & Metabolism" looked at the effects of Saizen use in malnourished adults. Results indicated that HGH intake enhanced total body weight and lean body mass. It also improved physical performance on a walking task. Both of these effects occurred within a month of every-other-day treatment. The patients reported no adverse events during the study.
Needle Free
Patients can choose either subcutaneous injection or transdermal delivery of Saizen HGH. A 2007 report presented in the periodical "BMC Clinical Pharmacology" tested a single dose of both methods in healthy volunteers. These subjects were first treated with somatostatin, a growth hormone inhibitor, to intentionally lower their natural HGH levels. They then received either subcutaneous or transdermal doses of growth hormone. The data showed that each method produced similar increases in circulating HGH and neither dose caused significant side effects.
Life Quality
People infected with the HIV virus often experience wasting, the unwanted loss of body weight. A 2004 study described in the "Journal of Acquired Immune Deficiency Syndromes" looked at the impact of Saizen in such patients. Within three months, growth hormone injections increased body weight, physical performance, and life quality relative to controls. Daily HGH intake occasionally caused hyperglycemia and bloating, but reducing use to every other day eliminated these negative reactions.
Cholesterol Level
The measurement of blood lipids, such as cholesterol, provides a reliable indicator of cardiovascular health. A 2007 investigation published in "Journal of Acquired Immune Deficiency Syndromes" assessed lipids in people with HIV before and after taking Saizen. The patients displayed elevated levels of cholesterol before hormone replacement therapy. Nightly HGH injections reduced "bad" cholesterol without affecting "good" cholesterol. Treatment also reduced body fat, but only on the waist. Growth hormone intake caused only a few adverse events, which were transient.
Bone Health
Healthy bones require resorption, the process of constant cell renewal. Children with stunted growth rarely display proper bone remodeling. A 1999 report presented in the "Journal of Pediatric Endocrinology & Metabolism" evaluated bone health in such children following the use of Saizen. Weekly growth hormone intake for six months increased bone remodeling and collagen synthesis. The kids tolerated the therapy well, as few side effects were reported during treatment.