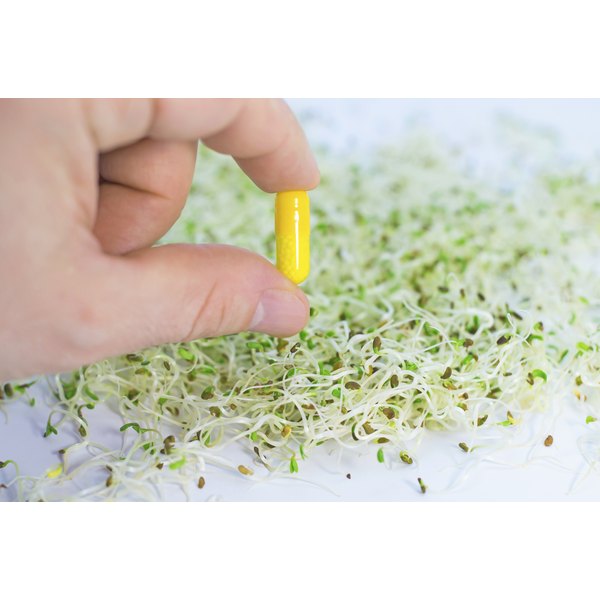 Belonging to the pea family, alfalfa is found in common grassland throughout the world. It has been proposed that alfalfa has many medicinal properties that help in such things as arthritis, eating disorders and the lowering of cholesterol. Alfalfa can be taken as a tablet or capsule, consumed in a tea or eaten as a leaf. The beneficial effects of alfalfa have either not proven themselves out in studies or, in most cases, simply have no scientific data to support them as being anything but pills that are high in vitamin content.
Alfalfa tablets and cholesterol
Herbal alfalfa tablets are believed to help with the absorption of cholesterol. More succinctly, alfalfa tablets are supposed to help prevent excess absorption of some of the cholesterol we consume. Generally, the tablets are taken before a meal. The lowering of cholesterol intake through the ingestion of alfalfa tablets has a positive effect on heart health since cholesterol has been known to clog up arteries that deliver blood to the heart.
Alfalfa tablets and diabetes
A study by scientists out of The University of California at Davis in 1984 provides one of the few supported incidences in which alfalfa tablets were shown to be effective. These benefits may be due, in part, to the presence of other nutrients, and not necessarily the alfalfa tablets themselves. While studying diabetics, the team concluded that the alfalfa tablets (or capsules) were effective in the treatment of the disease when insulin was ineffective. The study concluded that the high amount of manganese found in alfalfa may have been the real reason behind the success of alfalfa tablets in treating the disease.
Alfalfa tablets and vitamins
Alfalfa tablets are made from the grinding up of the leaves, so any vitamins and minerals present in the leaves are also present in the tablets (or capsules). Among the substances found in alfalfa, there are some very beneficial vitamins and minerals present. The alfalfa tablets have been found to possess high levels of protein, calcium, carotene, vitamins B, C, E and K.