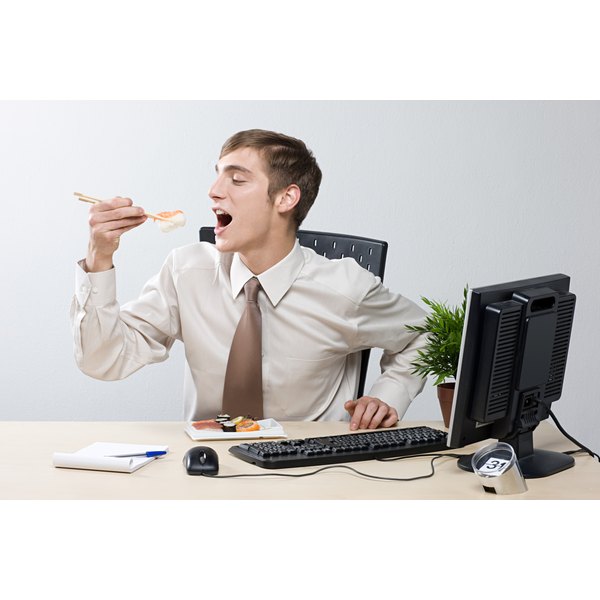 Approximately 83 percent of Americans typically eat at their desks during the course of a normal work day, according to the Academy of Nutrition and Dietetics. Many of these people may have the desire to eat a healthy lunch at work, but it can be difficult with a short lunch break and temptations from less health conscious co-workers. Planning, snacking and making yourself accountable are three ways to help you eat healthy lunches at the office.
Planning is Key
When you're trying to eat a healthy lunch at the office, the best thing you can do is plan your meals ahead and bring your own lunch. Workplace cafeterias are often filled with greasy, unhealthy food, such as pizza and cheesy pasta dishes. Preparing your lunch will help you stay on track during the day. Make an extra portion or two at dinner the night before and pack some in a to-go container for lunch at the office. Pack your lunch the night before so that you can just grab it on the way out the door instead of scrambling to make something healthy in the morning. Grilled chicken and vegetables, turkey sandwiches on whole-grain bread and whole-wheat pasta with marinara sauce are quick, easy options that will help keep you full and on track.
Nibble Regularly
Munching on healthy snacks throughout the day is a great way to make sure you eat a healthy lunch at the office. When you haven't eaten since breakfast and you're famished, ordering a large pizza may seem like a good idea. If you've satisfied yourself with healthy snacks all day long, your blood sugar will remain more stable so that you don't feel starving and you will be more likely to stick with your healthy packed lunch. Choose snacks that contain protein, which helps keep you full. Some options include hummus and cut-up vegetables, string cheese and a piece of fruit and all-natural peanut butter on whole-grain crackers.
Be Choosy with Takeout
Let's face it, even with the best intentions, there are some days that you're not going to be able to plan and pack your lunch. When this happens, takeout may be your only option. Find a few places in the vicinity near your work and study their menus. Choose takeout options that contain vegetables, lean protein and whole grains, such as a turkey sandwich on whole-grain bread with a side salad or chicken soup and a vegetable wrap. Ask for sandwiches without cheese or mayonnaise and insist on getting salads with the dressing on the side. Most restaurants will be willing to accommodate your dietary needs.
Find a Buddy
Resisting temptation can be difficult, especially at the office where vending machines and candy bowls can throw you off track in an instant. Find a co-worker who is also into healthy eating and make a pact to help each other stay on track. Eat with this lunch buddy every day and avoid co-workers who try to sabotage your efforts with unhealthy temptations.