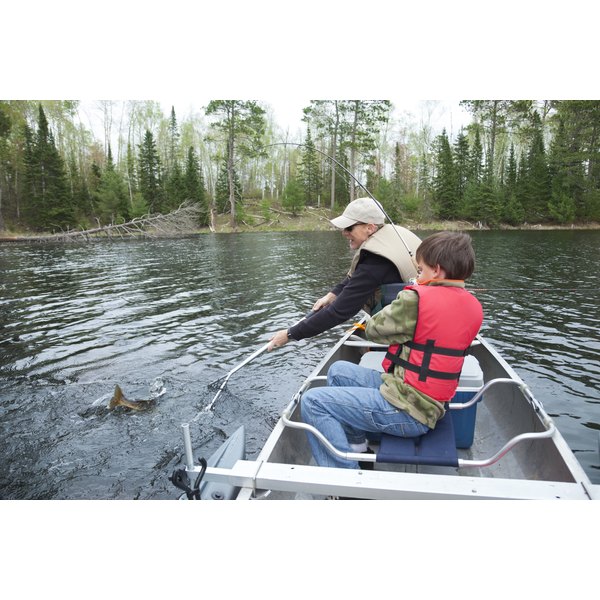 The walleye sporting fish species is legendary for being aggressive feeders. Their large eyes and keen vision equip them for spying any prey that happens to wander into their preferred territory: murky, deep, bottom waters. Walleye feed by sucking prey into their powerful mouths. Because of these behaviors, anglers going after walleye need to choose their lures carefully. A lure that works for ordinary bass fishing may not always be effective on walleye.
Rapala Original Floater
The Rapala (rah-pahl-la) company invented the balsa hard-body lure in 1936. This line of lures remains at the top of most professional anglers' lists when it comes to walleye fishing, according to professional angler Roland Martin. The Original Floater lure comes in more than a dozen sizes and color patterns. The Original Floater lure is designed to behave like a wounded minnow in the water, an invitation most walleye cannot resist.
Rapala Minnow Red Rap
Like its larger cousin, the Minnow Red Rap has a long pedigree of success. The Minnow Red Rap features an extended lip that helps the lure go into deeper waters where the walleye are. The red lip coloring mimics trailing blood and, when combined with the distinct Rapala movement, entices the walleye to dispatch what it thinks is a wounded minnow.
Rapala Husky Jerks
The Husky Jerk produces a distinct minnow-like swimming movement combined with a "rattle chamber" to appeal to the walleye's sonic senses. Huskies come in more than a dozen color combinations, with the Glass Blue Minnow receiving praise throughout the walleye angler community.
Erie Rig Jig
The Erie Rig features a distinctly different shaped jig head—flattened as opposed to rounded—and often has a hook that reflects a red coloring. Match this Erie head with the soft plastic body and tail of your choice.
Buckeye Lures Ditch Blade
Jigs that have eyes painted on the head are also effective with walleye. The Buckeye Blade lure has these, plus a bonus of a small swiveling spinner spoon. While this lure is most often used for bass fishing, it is also known to work with walleye. Combine a soft body or tail to complete the rig.
XTS Speed Jointed Minnow
The XTS jointed minnow has a realistically painted body, a small lip and jointed midsection to produce a life-like swimming motion in the water. The XTS is a reasonably priced jointed lure that will not bust a tackle budget—or cause groans if it is lost.
Koppers Livetarget Smelt
This beautiful lure mimics the appearance and motion of a full-grown smelt. It includes a modest lip and a rattle chamber to drive walleye crazy. The body is specially engineered to make the lure look as though it is quivering and kicking its tail in distress.
Rebel Jointed Minnow
The Rebel Jointed Minnow (RJM) has a reputation for being a trophy-catching lure: the world record striper bass, a 59-lb. bass, was caught on an RJM in the Colorado River. The RJM also boasts a record breaking 79-lb. catch in the Atlantic, according to Bass Pro Shops. You can also put the RJM to work on walleye, with good results.
Berkley Flicker Shad Crankbait
According to Bass Pro Shops, the Berkley Flicker has become "one of the most productive trolling baits of all time," if trolling for walleye is your forte. The Flicker comes in many color combinations and sizes. Each Flicker has a pronounced lip for deep diving.
Lucky Strike Bucktail Jig
The Lucky Strike Bucktail is a hand-tied jig that comes in the colors that walleye experts at Bass Pro Shops say attract walleyes: red, yellow and green. The Lucky Strike Bucktail is an "eyed" jig, but the secret behind the jig's success is the extra-full bucktail skirting that keeps the lure "fluffy" in the water.