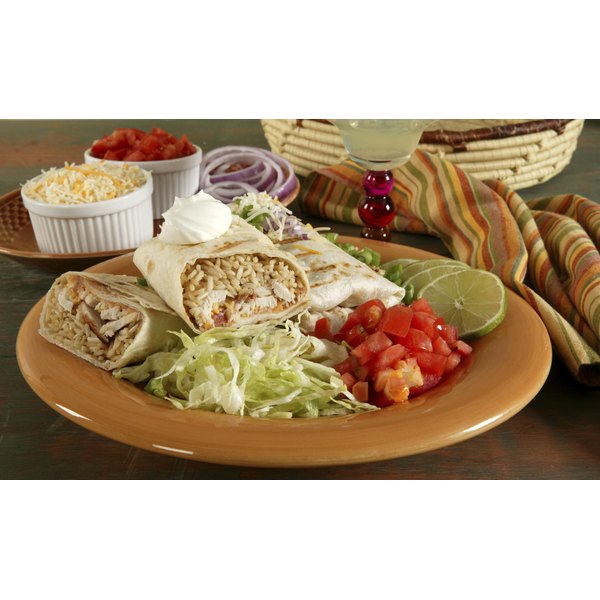 Eating healthy fast food meals at Taco Bell may seem impossible. Many people regularly "run to the border," paying more attention to the growl in their stomach than the nutritional content of the meal. There is a way for health-conscious people to enjoy eating at Taco Bell and make smarter dietary choices.
Read the nutrition facts of Taco Bell's menu. This can be found on the Taco Bell website by selecting "Nutrition Info" under "Food and Menus." Select "See the Facts" under the full nutrition info header to get a complete nutrition breakdown of each menu item.
Look through the calorie details. Note that salads are some of the highest calorie items on the menu while some burrito options contain less than half the calories. Next, sift through fat and sodium values of your favorite items. The menu's sodium values range from reasonable to almost a full-day's worth of sodium in one item.
Calculate how many calories are enough for one meal. This is done by determining your body mass index and considering your gender, age, size and activity level. There are several online calculators that can do this for you such as the one provided by MayoClinic.com.
A meal requirement can range from 400 calories and up depending on your individual needs. For example, one 400-calorie burrito would meet the dietary needs for most women, while 500 to 700 calories constitutes a meal for the average man between the ages of 20 and 40.
Pick one to three menu items that add up closely to your calorie meal total. If two items you like have similar caloric values, choose the one with the least fat and sodium. The "Nutrition Calculator" page of the Taco Bell website is a helpful feature for building different meals and calculating nutritional content. Add and remove items to play with the nutrition totals until they're in the proper range for your dietary requirements.
Don't rule out your favorites permanently if they exceed your dietary requirement. Instead, note which favorites you can't live without. Is your Taco Bell experience enhanced by a Double Decker Taco or Cinnamon Twists? Make room in your meal's calorie budget for special favorites and consider enjoying them as an occasional treat rather than a must-have for every Taco Bell meal.
Choose some of the healthier Fresco options which substitute cheese on menu items for a tasty fresh Fiesta Salsa. The "Fresco" menu options listed in the "Drive Thru Diet Menu" have 25 percent less fat and fewer calories than comparable menu items. For example, the 290 calories and 17g of fat in a grilled steak soft taco are trimmed to just 170 calories and 5g of fat when ordered Fresco-style. According to Taco Bell, that's a 70 percent reduction of fat. With the calories saved, an extra item may be able to make its way into your bag without busting your calorie goal.
Drink water with your Taco Bell meal. Beverages can add a lot of extra sugar and calories, especially the frozen varieties, some of which contain nearly 600 calories—that's a whole meal or more. Skipping the beverage allows you to enjoy more food.
Stick to the plan once ordering. Don't be sucked in by "deals" or promotions that could pull you away from your plan. The latest special and commercial ad item may sound exciting but may not be worth the extra calorie hit. Check its nutrition facts before straying from your preselected "safe" menu. Also, skip combos that aren't worth the extra calories you'll spend to save a few cents.
Tips
Set boundaries before walking through the door or driving up. If visiting Taco Bell is already the occasional treat, then don't feel too restricted. Enjoy the items you like with a little restraint and knowledge of how this meals fits into your nutrition goals.