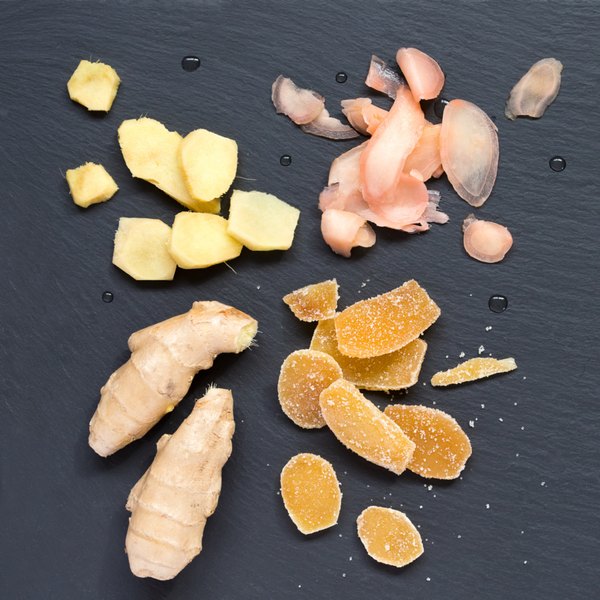 Cleansing the liver and the colon is a step towards improving two of the most important elimination processes in your body. The colon absorbs water and minerals and releases fecal matter. When the bowel muscles retain this fecal matter you are experiencing constipation, reads the book "The New Holistic Herbal" by herbalist David Hoffmann, (See Reference 1) and this can cause toxicity in the body. A healthy liver removes waste from the blood, according to the Mayo Clinic. (See Reference 2) With a combination of laxative and choalogogue herbs, you can successfully cleanse your liver and your colon. Always consult a medical practitioner if you are under medical treatment, before engaging in taking herbal remedies.
Bring a cup of filtered water to a boil in a medium size pot.
Add a tea bag of organic senna leaves and 1 tsp. of freshly chopped organic ginger and cover with a lid for 5 to 10 minutes. Senna is a laxative herb, which according to acupuncturist Michael Tierra in his book "The Way of Herbs," (See Reference 3) increases intestinal peristaltic movements. Ginger is a good ally for this laxative herb, since it is a carminative. According to the book "The Dictionary of Modern Herbalism" by Simon Mills, (See Reference 4) carminative herbs ease flatulence and colic in the intestines.
Strain out the plant material and add honey if you desire.
Drink your senna and ginger tea before bedtime, in order to have the effects of senna happen first thing int he morning. It usually takes senna's laxative properties 8 to 10 hours to prompt the colon to eliminate waste material.
Add 2 to 3 droppersful or 30 to 60 drops of dandelion root tincture to a glass of water and drink without sweetening, first thing in the morning. The bitter taste of dandelion is what makes this herb a cholagogue, which according the book "Making Plant Medicine" by Richo Cech helps cleanse the liver by promoting the secretion of bile.
Drink at least 6 to 8 glasses of water throughout the day during your liver and colon cleanse in order to help the body eliminate toxic waste.
Repeat the steps for a week and eat easy to digest food in order to allow the colon to fully cleanse.
Warnings
Do not perform the colon and liver cleanse if you are experiencing diarrhea for it may cause dehydration. Avoid dandelion if you are taking any diuretic medications, since it promotes urination.